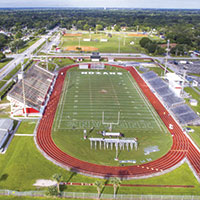 New Citrus Bowl seating may be ready for graduation
STORY BY RAY MCNULTY

The Indian River County School District's director of facilities planning and construction admits it would be easier to demolish the decaying Citrus Bowl and build Vero Beach High School an entirely new stadium.
But such a project, Scott Sanders said, would cost too much and take too long to complete.
So the School Board chose the quicker and cheaper option, voting unanimously last week to spend $1.7 million to repair the 48-year-old, concrete stadium, which is expected to be ready for the 2016 football season.
"We looked at a lot of different options," Sanders said. "The easy way would've been to knock it down and start over, but that's a two-year project and it's a lot costlier. You'd be looking at a total cost in the neighborhood of $8 million.
"This way, we'll just take off the existing concrete seating and replace it with aluminum bleachers, which is what you see at most high school stadiums nowadays," he added. "The under-structure is very sound."
Sanders said that, barring any unexpected delays, the Citrus Bowl renovations will be completed well before Vero Beach kicks off a new football season and, "if everything falls into place," the stadium might be ready for graduation this spring.
"I wouldn't say it's probable," he said, "but it's possible."
The Citrus Bowl was closed Oct. 6, one day after local independent engineer Bill Stoddard issued a report stating the stadium was unsafe because of structural problems relating to the concrete beams supporting the 3,000-plus, home-side bleachers.
Since September, at Sanders' request, Stoddard had been inspecting the Citrus Bowl on a weekly basis.
The alarming report that prompted the shutdown came only a week after the board voted to begin repairs on the stadium in 2018 – a three-year, $6 million project that included replacing the cracked concrete beams, updating restrooms to meet Americans with Disabilities Act requirements and improving the concession areas.
"We'll rely on the architects to make recommendations on the specifics," Sanders said, "then it'll have to go before the board."
Sanders said a renovated Citrus Bowl, "like everything else we design and build," would be expected to have a lifespan of at least 50 years.
"That was the case when the Citrus Bowl was built, but we came up a couple of years short," he said. "We knew this was coming. We planned for the renovations. We just didn't anticipate having to do it this soon."
Stoddard delivered his fateful report to Sanders just four days before the Fighting Indians' played their Homecoming game. Rather that move the football game – both Dodgertown's Holman Stadium and Sebastian River's Shark Stadium were considered – Vero Beach Athletic Director Lenny Jankowski decided to play at the Citrus Bowl, using the visitors-side stands and erecting temporary bleachers behind both end zones.
"It wasn't perfect," Jankowski said of playing the team's final home game of the 2015 regular season with the home stands empty, "but it worked out."
Sanders said the renovation project could start in the next few weeks, when the concrete stands will be demolished and hauled away, possibly to be used to create an artificial reef.
He also cited another benefit of renovating over rebuilding.
"The Citrus Bowl has a retro-type look that fits Vero and seems to appeal to the community, and we didn't want to upset that," Sanders said. "So if you consider all the factors – time, cost, nostalgia and aesthetics – this was the best way to go."
And if some generous donors come forward with the funds to build an entirely new stadium?
"That hasn't happened yet, but the district is always willing to have those kinds of discussions, whether they be donors or boosters," Sanders said. "It was the boosters who raised money to help build the Citrus Bowl."