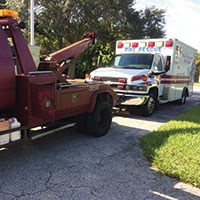 Old ambulances on the island break down in 'perfect storm'
STORY BY LISA ZAHNER

Last Sunday was a good time to not have a heart attack or any other medical emergency in Central Beach or South Beach.
Three ambulances with a lot of miles on them all broke down on the barrier island on the same day, and Indian River County Fire & Rescue officials at one point were forced to replace one of the ambulances with a Ford Crown Victoria, basically a modified police car.
That car was staffed by paramedics who could treat, but not transport, a patient. Fortunately, no lives were lost due to the mechanical failures.
County officials admit that, after the 2008 recession, they postponed replacing emergency vehicles used to put out fires, treat injuries and transport local residents to the emergency room. It was only a matter of time before this aging equipment posted at beachside stations gave out.
This summer, after caustic negotiations with firefighters in which decrepit vehicles were one item hotly debated, the county finally broke down and ordered new fire trucks and ambulances – but not before a Vero Beach 32963 reader reported seeing the county's Fleet Maintenance scurrying around the island and employing a tow truck to haul an ambulance away.
"On Sunday, Oct. 11, 2015, the Fire Rescue Division experienced three failures of ambulances throughout the day. At no time during this event was the Level of Service compromised or a response to any 911 call delayed," said Indian River County Assistant Chief of Emergency Medical Services Brian Burkeen.
Not counting emergency services within the Town of Indian River Shores, the beachside has three fire stations – Station 2 at Riverside Park, Station 6 in South Beach near St. Edward's School and Station 11 across from the entrance to the Orchid Island Golf & Beach Club.
On Sunday morning, the ambulance at Riverside failed and the county brought in a spare vehicle, which was 11 years old. By 4 p.m., that ambulance "experienced a major mechanical failure rendering it out of service," according to Burkeen. Another 11-year-old ambulance was sent out to the Riverside station.
Around 1:30 p.m. Sunday, the 8-year-old ambulance stationed in South Beach also failed and, with the supply of spare ambulances now depleted, was replaced with the modified police car.
"This crew was placed into a supervisory vehicle with lights and sirens and appropriate paramedic gear to provide first responder services at an Advanced Life Support level," Burkeen said. "Transports to hospitals would be delivered by the next available closest ambulance."
Burkeen added that by Monday afternoon, one of the spare ambulances had been fixed and put back into service at the South Beach station.
"Three new ambulances are expected to be received in January 2016 and two additional estimated March 2016," Burkeen said.
That means the county's fleet maintenance mechanics must get the existing jalopies through the holidays and the early part of the busiest season on the island.
Burkeen said the average age of the county's ambulances is only five years, dating back to 2010.  It's not clear why older units are deployed on the barrier island, which pays close to half the residential property taxes in the county's Urban Service Area.
"It should be noted that the County has made a significant financial commitment to accelerate the replacement of rolling stock committing approximately $3.3 million to the (fire and rescue) vehicles on order now or recently received.  The total five-year cost of this replacement schedule is about $5.9 million," Burkeen said.  After those vehicles are delivered, the average age of the county's ambulances will be only three years.