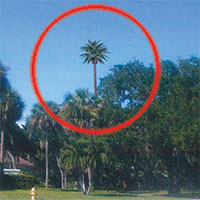 Shores edging toward decision on cell tower
STORY BY LISA ZAHNER
PHOTO: Photo simulation of 130-foot-tall monopalm cell tower behind town buildings on Fred Turek Drive

Indian River Shores residents and town officials want the absolute best cell phone and data service, but with the least obtrusive tower. And they don't care if the Town gleans much income from the venture.
That's what emerged from a Town Hall meeting held to give residents a chance to weigh in on the latest effort to end more than a decade of frustration over the town's cellular service – or lack thereof.
One woman among the 50 persons present at last Thursday's workshop complained that her sons don't visit often because they cannot work remotely from inside her home due to the poor cell signal.
"We can't make a call from inside our office. We have to go outside," said Bob Gibb, owner of John's Island Real Estate. "We have clients who make a decision whether or not to buy based upon this and they can't believe we're such a backward place that we don't have cell service. The overall community is hurt by not having cell service – it really hurts us all."
But others present expressed concern over the impact of towers on property values, the potential health risks of living near a tower, or the effect on the town's aesthetics.
Homeowners from Bermuda Bay continued to protest the that the sites the Town is leaning toward – somewhere near the Town Hall or near the Shores Public Safety Complex – are too close to home in their community.  A conservation expert from the Indian River Land Trust expressed his worries about the third potential site near Bee Gum Point and said the tower would be detrimental to the migratory bird population.
The cell tower specialists from St. Petersburg-based Datapath Tower, the company selected by the Town to manage the project and construct a tower or towers, showed up with no large-scale visual aids and no real conceptual plan. Residents said they wished there was something tangible they could see, so photo illustrations by Datapath CEO Bill Tinsley were posted on the Town's website after the meeting.
Datapath offered a lot of options. The least aesthetically attractive of the possible choices, a 130-foot monopole, could host up to five different cell phone companies and provide the most revenue along with the strongest signal and most data bandwith.
Another choice would be a monopalm, where the equipment is covered with fake palm branches. A less unsightly option would be a unipole, which is 85 feet high, hosts up to two cell providers and can be camouflaged as a flagpole.
"I'm pretty sure that the Town, if we go ahead with this tower, wants the unipole that has the best aesthetic. It's the consensus of the Town Council that we have the least obtrusive tower if we do it," said Vice-Mayor Jerry Weick, who was acting as Mayor in Brian Barefoot's absence.
Councilman Dick Haverland countered that Weick does not necessarily speak for him. "I want to make sure that we have superior service – ideally it would be unobtrusive," Haverland said. "We're not doing this to have something that's wonderful for everybody to look at, but that doesn't work. I speak for a quality signal that works."
Tinsley and his associate did not seem to expect that Town residents wouldn't much care about having five different cell providers. What residents seemed to want was assurance both AT&T and Verizon would be on the tower and would install their equipment as soon as possible.
Town resident Ron Crider, who happens to be president of another company, World Telecom Sites, said providers sometimes take their sweet time getting up and running on a newly constructed tower.
"We who live in Indian River Shores and John's Island are well aware of the poor cellular service, but that in itself is not necessarily enough motivation to get the cell companies moving," Crider wrote in a bound presentation he distributed to Town officials and media. "There is a significant amount of lobbying and begging necessary to actually get these companies to want to build. If I were running the project I would begin to line up the carriers now as well as the additional communications companies."
The John's Island board is working on a parallel process of planning a tower on club property to help bolster signals in the north end of the Shores. John's Island officials say they're waiting to see what the Town decides before they finalize their own plans to build a tower within the community.
The nearest towers to the Shores on the barrier island are Sea Oaks to the north and on top of the Village Spires condominiums on Ocean Drive to the south, leaving a stretch of more than five miles uncovered.
Crider also wrote in his presentation that the concerns about the Federal Aviation Administration are a non-issue, but the Datapath team said that a 130-foot tower would be 15 feet higher than the FAA limit due to the Shores' proximity to flight patterns, and that the FAA could potentially require the tower to be lighted if erected at 130 feet. One or two 85-foot towers would be less of a concern for low-flying aircraft, they said.
After the meeting, Town officials could be heard chatting with residents who would potentially be impacted the most by the tower or towers, asking if they would be open to some sort of reduction in property taxes to offset the tower being in their veritable backyard.
Whatever plan Datapath comes up with will have to go through several layers of approvals due to the need for a zoning variance, plus Tinsley said various government agencies would weigh in. The Shores Planning Zoning and Variance Board typically meets the second Monday of the month, but it is unclear whether the Datapath folks will have the information gathered and compiled in time for the November meeting.