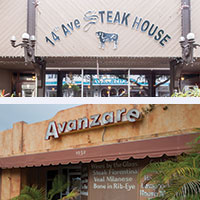 14th Ave Steakhouse closing; Avanzare moving in
STORY BY MICHELLE GENZ

On a mid-week night in the deadest month of Vero's off-season, there wasn't a seat to be had at the 14th Avenue Steakhouse.
Perennially under the radar for much of its 26 years, the downtown restaurant has become the hottest table in town. The reason? Owners Ezio and Phyllis Vitiello are locking up for the last time Friday night.
If all goes as expected with the sale of the building, the modest logo with a steer at its center will come down from its grey wood façade, due to be replaced by Avanzare, Roger Lenzi's popular Italian restaurant two blocks south.
At the same time, Lenzi is opening an Irish pub in the building immediately next door, also owned by the Vitiellos. That space was most recently a sports bar, and Lenzi intends to return to that theme on game days.
"Twenty-six years is a pretty good run," says Phyllis Vitiello, as she fended off calls for reservations Friday night. "We have people calling, 'When is the last day? We want to come in and have a steak?' It's nice to know we'll really be missed."
The deal on the buildings is expected to close later this month, Lenzi says.
The Vitiellos showed courage when they invested in the space. It was 1990, and the downtown's main corridor had no restaurants and no art galleries, no decorative street lamps and no brick pavers. The notorious Twin Pairs weren't finished until two years after they opened.
Today, the restaurant is in the heart of the downtown, and on the stretch north of S.R. 60 that has received the most attention.
Avanzare's current location, on the other hand, is south of the Twin Pairs, and for a decade merchants have complained that the area has been the city's stepchild in terms of focus for rehabilitation.
Lenzi has seen that first hand. "They never seem to spend any money on that side," he says. "North of 60, they pay attention to the sidewalks and pay attention to the streets."
 In addition, he has had to pour money into repairs to the space he rents for the current Avanzare. Parking has become a worsening problem with the arrival of more shops and restaurants in the area.
The steakhouse location has parking in the rear, as well as side street parking and municipal lots nearby.
Better still, the restaurant was recently renovated and Lenzi says he has only to put some decorative touches in to transform it to his liking. He also would like to add outdoor dining, as he has at Bijou. "We're going to try to work with the setbacks and maybe get some tables out front. You know, it's such a nice area, right across from the theater, which looks great."
In addition to Avanzare, Lenzi has done well with Bijou, a French-inspired bistro that he opened across the street. He then moved Bijou next door to Avanzare and turned its former space into an upscale burger place with the decidedly downscale name of Burp. That closed, and Bijou has been tweaked toward a tapas theme and is now called Bijou Noche.
Another short-lived venture was Jake's Place, which Lenzi opened in 2012 in the space that would become Blue Agave. "Jake's didn't have a kitchen," says Lenzi. "We thought we could bring food up there from Avanzare but it just didn't work out."
In November, Lenzi took over as managing partner of the struggling Chop House 88 on the east-west stretch of U.S. 1 near downtown. Adding seafood and more appetizers to the menu and borrowing a chef from Bijou, he turned it into Vero Prime.
This summer, he and a co-owner in Blue Agave, Ian Mock, took over the Ynot Bistro in the shopping plaza at U.S. 1 and Oslo Road. They've transformed it into a southern-inspired restaurant called JR's American Bar and Grill.
As for the Vitiellos, they are looking forward to retirement in St. Lucie West, where they live. "It's nice to have a feeling that we've accomplished something," Phyllis says.