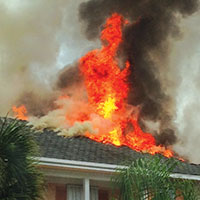 Big thunderstorms spawned by Erika set home ablaze
STORY BY LISA ZAHNER

Tropical Storm Erika, after days of hype and hysteria, was declared "dissipated" early Saturday morning hundreds of miles before ever actually  threatening Vero.
But a lightning strike from waves of wicked thunderstorms spawned by remnants of the tropical wave set a million-dollar Indian River Shores home ablaze Sunday morning.
The owners of the residence on Holoma Lane behind the Village Shops, Ken and Cynthia Shanks, were not home when the Shores Public Safety Department got the call from a neighbor that the house had been struck by lightning and was on fire.
Shores officers, along with several crews from Indian River County Fire Rescue, battled the blaze in the two-story, 5,300-square-foot home that was listed for sale for $1,095,000.
Firemen who made it up to the second floor as they searched the residence for victims rescued the owners' cat, Cashmere.
Firefighters worked for several hours in the intermittent pouring rain to bring the blaze under control, and keep it from spreading to neighboring houses. Indian River Shores Public Safety Chief, Rich Rosell said he was grateful for the county's assistance on this major fire. "The county sent a ton of guys," Rosell said.
The effort also was aided by Town Manager Robbie Stabe, a career firefighter and the town's former chief, who along with Rosell and two lieutenants was playing in a charity golf tournament at neighboring John's Island when the call came in.
"We all dropped what we were doing to respond," Rosell said. "Also, we had a couple off-duty guys who were also golfing and departed the course to help."
Elsewhere on the island, just in case Erika's path tilted toward Vero, the City of Vero Beach took precautions along the beachfront to protect some of its most vulnerable assets from tropical storm force winds.
"We removed the four Mental Health Association turtles that were on city or public property as well as the sun shades at Humiston Park and flags in the city limit," said Public Works Director Monte Falls.
"All will be returned as soon as possible, except that we are trying to contact the turtle artists to make some minor repairs due to wear and tear."