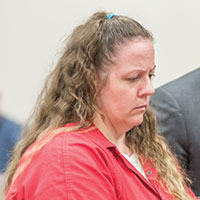 Caregiver in George May's death stunned by sentence
STORY BY MEG LAUGHLIN

Gina Albrecht was stunned last week when she heard Judge Robert L. Pegg sentence her to 30 years in prison for the aggravated manslaughter of Marbrisa resident George May, 81. Pegg also sentenced the caretaker-turned-Ana-Nicole-Smith-turned-convicted-felon to a concurrent sentence of 20 years for ID theft and forgery.
With credit for time already spent in custody, Albrecht, now 39, should get out of prison when she's in her 60s.
"Gina was stunned by the sentence," said her attorney Bobby Guttridge. "She thought it would be toward the lower end of the guidelines, not at the top."
Pegg read the sentence to a courtroom packed with May's long-time friends and neighbors, as well as his daughter and niece, a juror from Albrecht's trial and a police detective and investigator who worked the case.
Also at the sentencing was a missionary director from a local church, who attended the trial and began corresponding with Albrecht after her arrest.
"I think what she did to George May was so wrong, but I did want her to know I was praying for her," said the woman who asked not to be named.
Albrecht wrote her back saying, "I am thankful to know that there is someone praying for me." In the letter, she acknowledged that she knew she was hated by many.
Five people spoke at the sentencing about what Albrecht had done: Enter May's life as his caretaker only to feign romance in order to drain his finances, then leave him to die, stranded in his own bed so she could get his home and life insurance.
"Your ego and greed need to be controlled," May's longtime friend, Steve Foster, told Albrecht at the sentencing.
Almost all of those who spoke told of their vain attempts to report what was happening to Children and Family Services, only to be told by government caseworkers that they did not see enough of a problem to separate Gina Albrecht from George May.
One of the caseworkers, Brenda Holmes, was a witness at the trial. In defense of her department's failure to take action and intervene to save May, she said she had completed two investigations in response to complaints.
"I didn't find any merit to the complaints ... There was dementia but it didn't have any bearing on his ability to make decisions ... Essentially, he said to butt out and we did," she said.
But at the sentencing, frustration over that hands-off decision was evident. 
"Any help I tried to get for George from CFS ended with always hitting a brick wall," said May's friend of 22 years, Luanne Wade. 
"All of the complaining to Children and Families did nothing toward having Gina removed," said May's daughter Patricia Corapi, weeping as she recalled the last time she saw her father.
 May's niece, Mary Olsen, gave a written statement to the judge in which she said: "Children and Families failed my Uncle George. Their policy needs to be changed."
And, May's neighbor, Dolores Fieldman, told the judge that the government agencies need better guidelines when investigating cases like George May's.
"Perhaps this tragedy will start a dialogue about protecting the vulnerable," she said.
Prosecutor David Dodd asked the judge for the maximum sentence for Albrecht because, he said, "George May died for greed … The house and money were more important to Gina Albrecht than the welfare of George May. She made the decision not to call 911. In the end she abandoned him to die alone." 
With that, Pegg read the 30-year sentence and the courtroom began to empty, as a stunned Albrecht was fingerprinted and led out in shackles.
"There is nothing to celebrate here. It's sad all of the way around. There are so many broken relationships and broken hearts over this, and there is no going back," May's niece Olsen said after the sentencing.
The day before, the missionary director received a letter from Albrecht talking about missing her daughters, 6 and 13.
"At least in prison, my kids can visit, and I'll get to spend some time with them. It has been too long," Albrecht concluded in her letter.