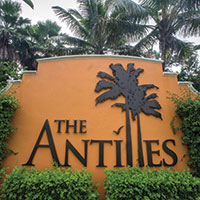 DR Horton brings life to Antilles
STORY BY STEVEN M. THOMAS

The Antilles subdivision will get a new lease on life in 2016 when mega-builder DR Horton ramps up construction of luxury homes in the long-dormant community.
"DR Horton purchased the remaining 170 lots in The Antilles in a deal that closed Sept. 3," says island realtor Michael Thorpe, co-owner of Treasure Coast Sotheby's International Realty, which brokered the purchase.
The community a short distance north of Grand Harbor was launched in 2005 by Palm Beach developer Cary Glickstein to compete with island subdivisions, offering a similar level of luxury and amenities for about two-thirds of the price.
It was a huge success for several years, with the first phase selling out as buyers paid between $500,000 and $700,000 for approximately 3,500-square-foot Anglo-Caribbean homes on streets named after islands in the West Indies.
But the community was hit by a severe double whammy in 2008 and 2009, when the real estate downturn decimated property values and a number of Antilles homes were found to contain toxic Chinese drywall that emitted gas harmful to home fittings and human health.
Most of those houses have been gutted and repaired, but the community came to a standstill with 90 early homeowners carrying the load of funding a clubhouse and other amenities designed for a 260-home subdivision.
"There has been very little construction in there since 2008," says Thorpe. "This will be a real shot in the arm to the community. The builder took down 20 lots in the first phase and plans to build several models and a number of inventory homes for quick sale. They are still determining the price point and exact timing."
Antilles homes have regained much of the value they lost in the downturn, with resales now listed in the $450,000 to $550,000 range. Horton paid approximately $50,000 per lot and will likely build homes that sell for half a million or a little more in order to be competitive with existing properties. At the same time, if the market continues to strengthen, a somewhat higher price point is not out of the question.
Massachusetts hedge fund Realty Financial Partners made the deal with Horton. It was Glickstein's lender and took control of the property earlier this year.
"They talked to many builders and very carefully evaluated their strengths before deciding on DR Horton," says Thorpe. "They didn't want a bunch of small builders in there taking down three or four lots at a time in process that would take 10 or 20 years to reach closeout. Horton has the size and sophistication to complete the subdivision and make this a big success."
DR Horton is in fact the nation's largest builder, closing on 30,455 homes worth more than $8.5 billion in 2014, according to Builder Magazine.
The company has more than 300 communities underway in Florida alone with nine in and around Vero Beach, according to its website.
Though not primarily known as a luxury builder, the company does have a division that specializes in high-end houses. That division is building luxury Anglo-Caribbean homes on the island in Ocean Oaks West half a mile south of The Moorings that are being offered for $750,000-$950,000. It is also building half-million-dollar homes comparable to homes in The Antilles in Tesoro in Port St. Lucie.
Thorpe says Horton's Antilles homes will be marketed to island buyers looking to downsize or get a new home at a price no longer available on the beach and to buyers from elsewhere who might otherwise gravitate to the barrier island.
At $50,000 a lot, the 170-lot package Horton purchased is worth about $8.5 million. At buildout, if homes end up selling for an average of $600,000 over the next few years, the project will put approximately $100 million dollars' worth of real estate on the county tax rolls.