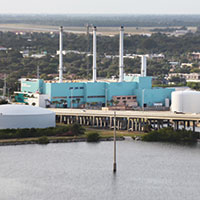 Vero seeks $66M to transfer Shores customers to FPL
STORY BY LISA ZAHNER

Indian River Shores officials fully expected Vero Beach to come back with some counter-offer higher than the $13 million that Florida Power and Light offered to take over the fewer than 9 percent of Vero's electric customers plus utility equipment in the Town, but no one was prepared for a mind-distorting number like $66 million.
Mayor Brian Barefoot, trying his best to remain diplomatic last Friday, said he applauded Vero's well-publicized efforts to reduce electric rates by brokering a new wholesale power deal with the Orlando Utilities Commission, but that Vero's "pattern of decision-making" has left him hard-pressed to have confidence in the city's leadership or any deal it contrives going forward.
Then, evidently going a bit off-script, Barefoot said, "There's no way in hell that anyone could come up with a number like they came up with unless the financial condition is so dire" that Vero somehow needs $66 million to have any chance of achieving solvency because it has relied so heavily on leeching from its electric customers to pad its general fund.
The $66 million Vero is seeking for less than one-tenth of its customers is more than one-third of the $179 million total that FPL and Vero agreed on two years ago as a fair price for all 34,000 customers, plus the assumption of Vero employees and pension liabilities.
When asked to provide the backup for the $66 million counter-offer (which as of Monday, attorney Robert Scheffel "Schef" Wright said is now down to a bargain $64.5 million), City Manager Jim O'Connor furnished Vero Beach 32963 with seven pages of spreadsheets showing customer billing data, general fund transfers, debt service and fixed costs that the city says would not be covered should the Shores exit.
One spreadsheet entitled "Rate Impact Analysis" attempts to quantify 30 years of gaps in Vero electric's revenue stream. The analysis appears to assume that no adjustment in operations would be made to service fewer customers and that Shores customers should somehow be required to pay their way whether they were using the system or not.
The same spreadsheet includes an ominous note at the bottom, "Contingent Liabilities – Not Quantified – To Be Addressed" – an indication Vero wants to keep Shores customers on the hook for a portion of its own ill-conceived, long-term contractual obligations with the Florida Municipal Power Agency.
After getting the astounding news that Vero actually thinks it should get more than $22,000 per customer when FPL's offer for the whole system averaged out to less than $5,300 per customer, the Indian River Shores Town Council resuscitated an ordinance that would set up a board to regulate Vero's rates should the Shores get stuck with Vero as a provider after the Town's franchise expires in November 2016.
Pending litigation will likely still be winding its way through the Florida Supreme Court or the Florida Public Service Commission appeals systems – or both – when the Shores' 30-year deal with Vero ends.
The ordinance the Shores Town Council passed unanimously on a first reading and will consider for a final reading next week would set up a PSC-like process by which, theoretically, Vero electric officials would have to formally justify the rates being charged to Shores customers.
Vero's rates are registered with the PSC, but are not regulated by the PSC the way the rates of an investor-owned utility like Florida Power and Light or Duke Energy are regulated. The Town's legal team asserts that the Town's sovereign rights as a municipality give it the power to regulate Vero's rates should Vero continue to operate within the Town's borders after the current franchise agreement expires.
The plan for a part-time, volunteer Town Council of non-utility experts could be costly, but as a desperation measure to impose some governance in a bad situation, it garnered support from the council.
No financial analysis of executing the plan, or annual budget for professional fees, was provided with the ordinance last Friday, but establishing a rate-justification process would likely require the town to keep pricey rate consultants and utility attorneys on retainer indefinitely.
The ordinance provides for a 1 percent charge to be figured in for administration of the rate-regulating mechanism.
Between now and November 2016 when the ordinance would kick in, Vero and its growing horde of lawyers and consultants are sure to fiercely exhaust all imaginable challenges to the Shores' legal authority to subject Vero to regulation of rates charged to the Town's residents.