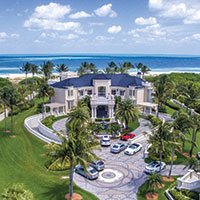 'Barcode lady's house,' 2 others to be sold at auctions
STORY BY STEVEN M. THOMAS

Three luxury oceanfront homes with interesting stories – and on the market at various time in recent years for a total asking price of $45 million – are scheduled to be auctioned at the end of the month.
Concierge Auctions, which auctioned off Splendida Dimora and two Ocean Park condos in Vero last year, will offer two homes for sale on Friday, April 29. The following day, DeCaro Luxury Auctions will put the lavish south island estate Palazzo Di Mare on the block.
Commonly referred to on the island as "the barcode lady's house," Palazzo Di Mare is owned by Sharon Nicholson, widow of William Nicholson, co-founder of Retail Grocery Inventory Service, now called RGIS, a leading inventory control company.
Sharon Nicholson bought the 4.84-acre tract where Palazzo Di Mare is located, adjoining the northern edge of Round Island Park, in 1994. She spent seven years building and decorating her ornate mansion, which has approximately 23,000 square feet of living space under air and some 28,000 under roof.
According to a 2013 Wall Street Journal article, the house supposedly was inspired by F. Scott Fitzgerald's novel "The Great Gatsby," in which several luxurious waterfront homes on Long Island are described.
"The home has 32-foot-tall ceilings, a stained-glass bar, a soundproofed movie theater and a 14-car garage. There's also a solarium, a sky deck, a guesthouse, two elevators and a swimming pool with 14-carat gold inlays. The house is fronted by 205 feet of private beach," the article said.
Real estate agent William P.D. Pierce of Coldwell Banker Residential Real Estate's Miami Beach office, who had the home listed for $19,900,000 when the Journal article was published, said the house would be worth more than $100 million if it was on the ocean in Miami.
Palazzo Di Mare has loomed large on the Vero Beach real estate scene since it was built – literally and figuratively. Until the recent completion of a 40,000-square-foot home nearby, it was one of the two biggest homes in the 32963 area – rivaling in size the Wackenhut castle in Indian River Shores.
Sharon Nicholson first offered the estate for sale in 2007, listing it for auction with a starting bid of $33.5 million. She withdrew the house shortly before the auction, which never took place.
The following year, she listed the house with the South Florida office of the Corcoran Group for $24,900,000. That listing was withdrawn in 2009 and since then the house has been listed and delisted multiple times, with three different brokerages, at prices that gradually declined from $24.9 million to $17.5 million, the most recent asking price. 
The auction scheduled for 11 a.m. on Saturday, April 30 suggests Nicholson is tired of the long, drawn-out drama of trying to sell her home.
"There is a very low $12.9 million reserve," says Daniel DeCaro, owner of DeCaro Luxury Auctions. "The property has been listed, off and on, for the past 10 years and the owner is ready now to take a more aggressive approach toward achieving a sale."
DeCaro says he founded his business in 1980 and does about 35 auctions a year with an average selling price around $7 million, and that most of the homes he auctions do sell.
He said no bidders have signed up yet for the April 30 auction, but that is not unusual, as bidders typically sign on the dotted line shortly before a luxury home auction takes place.
He admits, however, that "interest is not what we would have expected. Somebody is going to get a good deal. If someone bids close to $12.9, they will probably get the house. I think  . . . [Nicholson] is ready to sell."
"It is a magnificent property. Where else in Florida can you get a house like this on five acres, beach to bay with a dock, for $12.9 million? If this house was in Naples it would be worth between $60 and $80 million. I am amazed something like this is available for this price," DeCaro said.
Concierge's two listings, which will be offered in absolute, no-reserve auctions on Friday, April 29, have a combined high-list price of $12.5 million.
The house at 980 Crescent Beach Road in Castaway Cove is a masterpiece of residential design developed by Joe Foglia, builder of the 40,000-square-foot house that eclipsed Palazzo Di Mare to become the largest home on the island last year.
Foglia purchased the outdated Castaway Wave 1 oceanfront property on a .76-acre lot in 2014 for $2,150,000 and, by his estimate, put more than $1 million into a dazzling renovation. Combining traditional materials, including limestone, white oak and polished plaster, in a modernist design to create a style he calls island transitional, Foglia made the house a clean-lined yet richly textured showplace of domestic beauty and practicality.
The 4-bedroom, 5-bath pool home has 4,200 square feet of air-conditioned space and 5,500 square feet under roof. There is 94 lineal feet of ocean frontage on an accreting beach that gets wider each year.
Foglia sold the home for $3.5 million in August 2015. Just two months later, the new owner listed it for sale with Clark French and Cindy O'Dare, broker associates at Premier Estate Properties, asking $3,995,000. That price was later reduced to $3,795,000, the most recent listing price.
Concierge's second April 29 offering is located at 360 N. Blue Wave Lane on the ocean in Ocean Pearl.  The luxurious Mediterranean-style home sits on a 1.54-acre lot with 136 lineal feet of ocean frontage.
The house, built in 1994, has 13,522 square feet under roof with 6 bedrooms, 8.5 baths, a 4-bay garage and resort-style swimming pool.
According to marketing material, the "serene and secluded residence captures the "spirit of an exotic tropical beach resort, cloaked in gorgeous greenery . . . Island-inspired flair harmonizes with the seascape in the creative vision of Architects Schlitt & Brenner, P.A. and the exacting standards of custom builder Barth Construction. The end result is a seamless blend of beauty, fine craftsmanship, and comfortable luxury. There is an elevator, Crestron smart-house technology, and an automatic back-up generator that can power the entire residence."
The house has been listed for as much as $8.9 million. It sold in 2014 for $5,450,000 to the same buyer that owns 980 Crescent Beach Road. That buyer listed it for sale with French and O'Dare in October 2015, at the same time the Castaway Cove property was listed. The most recent listing price is $6.5 million.
The owner of the two properties is listed on county property records as Emporia LLC, which French describes as "a holding company for a local family that owns multiple properties in Vero Beach."
French says the family is selling the two properties because "they were not using the estates that were originally purchased as overflow homes for visiting family and friends."
Laura Brady, president of Concierge Auctions, says there has been strong interest in the two properties. She expects there to be between five and eight bidders for each home.
French agrees, calling interest "very high. The opportunity to purchase two extremely high-quality homes directly on the ocean for the buyer's price is compelling."
Brady says having her auctions the same weekend Palazzo Di Mare is offered is a good thing. "The attention that all three auctions will bring to Vero Beach will benefit all properties. Additionally, our properties are selling without reserve and are not directly comparable to theirs."
Registration for the Concierge auctions closes on April 26, according to French. Brady says buyers must provide a $100,000 deposit for each house they plan to bid on prior to the auction and be prepared to close within 30 days.
Concierge Auctions has been on the Inc. 5000 list of fastest-growing U.S. companies for the past two years, ranked No. 1826 in 2015 with 3-year growth pegged at 218 percent and $13 million in revenue.
Brady says the luxury auction model works well in good markets and bad ones, and that the company conducted 80 auctions in 2015 in 30 states and 10 foreign countries.
Despite the mythology surrounding "the barcode lady's house," William Nicholson was not the inventor of the barcode. That honor belongs to Norman Joseph Woodland, who worked on the Manhattan Project that developed the atomic bomb during WWII.
After the war, the 27-year-old college dropout was sitting on the sand in front of parents' house in Miami Beach when he dragged four fingers through the sand and suddenly visualized a Morse Code-like system of wide and narrow stripes that could be used to keep track of grocery story items.
The Nicholsons founded their business in 1958, and made a fortune capitalizing on Woodland's invention.