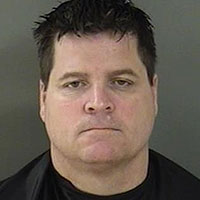 Contractor arrested, accused of bilking remodeling clients
STORY BY LISA ZAHNER
Photo: Contractor Mark Frederick Murphy is facing felony charges.

Vero Lake Estates resident and contractor Mark Frederick Murphy is facing felony charges for allegedly bilking his remodeling clients out of big deposits, and never furnishing the materials or finishing the work paid for by two barrier island homeowners and one in southwest Vero.
Murphy, 47, who state records show had been a licensed building contractor in Florida since February 2007 until his license was suspended last month, was arrested on April 12 and charged with stealing about $150,000 from three local clients, including the owners of one North Beach home just off Jungle Trail, and one South Beach home on Pelican Lane.
A third victim lives in Legend Lakes in southwest Vero.  Investigators suspect more victims may come forward after they learn Murphy is being held accountable.
After being arrested and assigned a $250,000 bond, Murphy hired defense attorney Bobby Guttridge, who was able to get Murphy's bond reduced to $175,000. He made bail and was released the afternoon of April 15, but was required to relinquish his passport and have no contact with the victims or their residences.
Absolute Building & Restoration's website is still active, urging clients to call for a free quote. The website touts the company's specialties – kitchen and bath remodels – and states, "Let us help enhance the value and style of your property. Our seasoned team will work closely with you to turn your dream home into reality."
The business address listed on state documents is at Highpoint Commercial Center on 65th Street in  Winter Beach. Murphy was picked up at his home in the 9900 block of 81st Street in Vero Lake Estates, which county property records show he and his wife Lynda have owned jointly since 2004.
Lt. Milo Thornton of the Indian River County Sheriff's Office investigated the case, working closely with Assistant State Attorney William Long, who is prosecuting Murphy. The investigation covers events that allegedly occurred over about a two-year period.
The first victims listed in the probable cause warrant affidavit that led to Murphy's arrest lost a total of $78,151 paid in deposits and pre-payments for materials to renovate their South Beach home, plus $16,450 paid directly to other vendors. The second victims listed in the affidavit lost $44,500 paid to renovate their North Beach home.
The third and final victims involved in this case so far lost $20,250 in money paid to renovate their southwest Vero home. The total involved in the alleged scheme to defraud these three sets of victims is $159,351.
Court records say that Murphy would give clients an estimate and typically require a 10 percent deposit, then his "project manager" William "Charlie" Jones would visit clients and present them with quotes for materials that needed to be ordered, or say that he needed funds to hire subcontractors.
Sometimes clients would wire money to Murphy, and other times they wrote personal checks. Investigators interviewed the materials suppliers in each case and found that the items quoted were never ordered and permits sometimes never pulled for the work to be done. Permits sometimes were applied for, but never paid for and picked up.
One of the victims even said he thinks his money was used to purchase cabinets that ended up in someone else's home. The victim, concerned about the status of his cabinets, "stated that he visited the shop several weeks later to see the finished product only to learn that the cabinets were no longer in the shop," the affidavit states. "The cabinets were never installed within his residence and he was never provided an explanation of where they were taken."
When asked how clients of Murphy's who experienced a similar loss might be of help to the case, the State Attorney's Office said the appropriate point of contact would be Lt. Thornton at the Indian River
County Sheriff's Office, investigations division.