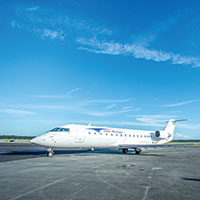 Elite Airways: Vero flights 'here to stay'
STORY BY RAY MCNULTY

The tryout is over and Vero Beach has made the Elite team.
"The flights between Vero Beach and Newark are here to stay, at least for the foreseeable future," Elite Airways Vice President David Dow said Monday. "We've already continued our Thursday and Sunday flights through September, and we'll extend through the end of the year.
"There are no plans to do anything but expand our service."
In fact, Dow said Elite could announce as soon as next week the addition of more flights between Vero Beach Regional Airport and Newark Liberty International Airport in New Jersey.
He said airline executives also are considering upgrading to larger jets to meet a greater-than-expected demand and planning to add service to other cities, possibly this summer.
"There has been a lot of talk of flights between Vero Beach and other destinations," Dow said. "I can't tell you what they'll be or when it will happen, but I would be surprised if we don't add at least one or two other destinations."
In December, Elite became the first commercial carrier in 20 years to offer passenger service from the Vero Beach airport. The airline was so encouraged by the early response to its non-stop service between here and Newark – many flights were sold out – that it added Fridays and Mondays to its schedule last month, but only through April 1.
City Airport Director Eric Menger said the additional flights "were doing very well" and that the Elite jets that flew between Vero Beach and Newark operated at 97 percent of capacity throughout the month of March.
"We expected to get a lot of vacation travelers, but we've noticed we're getting more business-type passengers than we anticipated," Menger said. "We're only four months into this, but, all in all, it appears to be working well for everyone.
"The service has been excellent and people seem to like it."
Dow agreed, saying, "We're very happy with the bookings, which have been beyond our expectations."
Elite began non-stop service between Vero Beach and Naples in late February, but Menger said the flights rarely attract more than "four or five passengers."
According to Dow, the small numbers are the result of the success of Elite's service connecting Vero Beach and Newark. Vero Beach is a stopover on the airline's Thursday and Sunday flights between Naples and Newark.
"The bookings out of Vero Beach have been so good," Dow said, "that travelers in Naples can't book the flights through Vero Beach."
Menger said he has no major meetings scheduled with Elite executives, but he communicates with them several times each week and they've given him no reason to doubt the airline's commitment to Vero Beach.
"The only thing that could have a negative impact," Menger said, "is if fuel prices start climbing and go too high."
Though it's too soon to gauge the economic impact of Elite's flights on the local community, Menger said passenger air service has enhanced the airport's name recognition and efforts to attract more commercial businesses.
"Local tourism has probably seen an uptick, too," Menger said. "I know it's helped C.J. Cannon's business."
Pat Cannon, co-owner of the popular, 32-year-old restaurant located in the airport terminal, said Elite's service has boosted business – and not only during breakfast hours.
"When they first started, people would come in for coffee, maybe a muffin or bagel," Cannon said. "Now, we're getting more people eating breakfast before they get on the plane."
She said the restaurant also is "getting people who come in for a late lunch or drinks" when their flights arrive in the afternoon. Some travelers are even returning at night for dinner.
"A lot of people who've come in for these flights have told us they didn't even know we were here," Cannon said. "Some of them have asked about our dinners and said they'd be back. So it's more than just a breakfast thing."