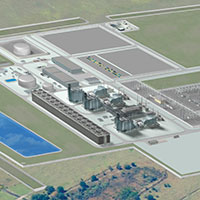 FPL, in reversal, will pay to train county's emergency responders
STORY BY KATHLEEN SLOAN

Florida Power & Light, which said "no" two weeks ago, has now agreed to pay Indian River County nearly $300,000 to prepare emergency responders to serve its proposed power plant in Okeechobee County, even though Okeechobee County has legal first-response duties.
Indian River County Commissioner Tim Zorc made the argument for the payments at the April 5 county commission meeting, which was attended by FPL representatives. He said county taxpayers should not bear the costs of protecting a power plant outside the county. Providing protection, Zorc said, will stretch the county's coverage area and resources and require training staff to respond safely and effectively to problems at the huge $1.2 billion natural gas-fired plant.
By FPL's own estimates, emergency responders likely will be needed a dozen times during the two-year construction of the plant from 2017 to 2019, when 650 workers will be onsite. During regular operation, when 30 workers will be onsite, FPL estimates there will be three emergency calls a year.
The biggest concern, Zorc said, besides keeping IRC taxpayers from paying to protect the power plant while Okeechobee County receives the benefit of FPL's property taxes, is lack of familiarity with servicing a facility of this kind.
Two one-time payments from FPL are meant to address these issues.
A $90,000 payment will compensate IRC for stretching its emergency and firefighter ranks thin to respond during construction and operation of the power plant. The county will give annual accountings of the fund's use until it is expended.
A second one-time $200,000 payment will compensate the county for sending its 200 emergency and firefighter staff to FPL-provided training. Half the staff will go to the first training and the other half to the second, with overtime paid to the home team covering for the away team. Travel and food expenses will also be paid from this fund.
FPL had already agreed to pay IRC "for extraordinary emergency expenses or services, including but not limited to those related to hazardous materials events." That agreement remains in place.
The two one-time and the third ongoing payment agreement are included in FPL's certification application, which was filed with the Florida Division of Administrative Hearings earlier this month.
Known as Okeechobee Clean Energy Center Unit 1, the power plant will be located inside Okeechobee County, within a mile or two of the Indian River County border. 
The plant will use natural gas-fired turbines and steam to generate 1,600 megawatts of power, enough         to power 1.6 million homes. Backup fuel oil will be stored in a 7 million-gallon tank onsite, to be used if there is a disruption in gas service, "and for periodic testing," according to FPL spokesman David McDermitt.
Zorc said there is need for a hazmat response team standing by, which IRC has in place but Okeechobee does not.
Although Indian River County is supposed to show up at any emergency second, in a supporting role, under the terms of a mutual-aid agreement between Okeechobee and Indian River counties, Zorc contended that when the two counties are called out simultaneously, Indian River County often shows up first.
The nearest fire station is in Indian River County at U.S. 95 and SR 60, which is 18 miles away from the plant site, Zorc said, while Okeechobee's Fire Station 4 on U.S. 441 is about 30 miles away.
McDermitt said the power plant site covers 2,800 acres, which makes it difficult to determine the exact distance to the plant building, but he claims Okeechobee's Fire Station 4 is 23 miles away. 
Zorc has studied the proposed power plant's impacts on the county for two years as the project proposal worked its way through permitting processes.
The opportunity for affected government agencies to provide input is now near an end. 
Administrative Law Judge Bram Canter will decide what FPL must do to mitigate impacts, prior to review by Gov. Scott, his cabinet and the Florida Department of Environmental Protection, in accordance with the Florida Electrical Power Plant Siting Act.
The first public hearing on the power plant's certification will be held by the Department of Administrative Hearings on June 30 at 9 a.m. at The Holiday Inn Express and Suites, 3101 U.S. Highway 441 South, Okeechobee.