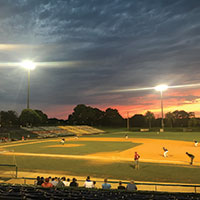 Historic Dodgertown poised to turn first profit in 2016
STORY BY ALAN SNEL

A framed Sandy Koufax baseball jersey signed by the famed southpaw pitcher and other Dodgers memorabilia fill Historic Dodgertown executive Craig Callan's spacious office that overlooks centerfield at Holman Stadium.
But there's more than just old Dodgers goodies, which seem natural and fitting in this location. There's the University of South Florida football helmet. And a Korean baseball team jersey signed by its players.
The non-Dodgers logo gear represents the revised business model and re-branding that continues to be tweaked at Historic Dodgertown, which is poised to turn a profit in 2016 for the first time in five years.
The one-time spring training complex of the former Brooklyn Dodgers and current Los Angeles team has been re-invented into an all-purpose sports center, one that includes a 110-by-150-yard field for soccer and football, sand for beach volleyball, and a large pool to augment its 10 baseball and softball fields.
And while high school and college baseball use still accounts for the single biggest source of revenue for the complex's annual $5 million budget, the treasured place where Jackie Robinson helped integrate Major League Baseball is also generating income from professional football teams from Canada, elite swimmers from Denmark and Nova Scotia and rowers from colleges in Ohio and Michigan.
They're all coming to a multi-sport hub once known as a mecca of spring training baseball to train for other sports – and help bolster Historic Dodgertown's financial bottom line.
With this year-round business model, annual losses are getting smaller, said Callan, Historic Dodgertown vice president. The operation, he said, lost $138,000 in 2012; $83,000 in 2013; $35,000 in 2014 and $9,000 in 2015.
"For us to be an economic engine, we have to be everything from lacrosse to rugby to sand volleyball," Callan said. "If you want a dominoes tournament, we'll have a dominoes tournament. We're not forgetting our roots, but we are expanding. Our business is year-round."
The Dodgers, who revolutionized spring training baseball with Dodgertown in 1948 at a former military base and built Holman Stadium in 1953, left Vero Beach for a new spring home in Arizona in 2008 after staging their last Florida spring training in 2007.
The complex that was purchased by Indian River County for $16.8 million in 2001 faced tough financial times after the Dodgers left Florida for the Arizona desert.  The once proud baseball field of dreams was renamed "Vero Beach Sports Village" – a major branding and marketing challenge – when previous Los Angeles Dodgers owner Frank McCourt declined to allow the county to use the Dodgertown name.
Enter another well-known name. Former Dodgers owner Peter O'Malley and his private company gained control of the old spring training complex by renting the site for a dollar a year in 2012 and established the 12-month approach to stirring up new business.
Longtime former Brooklyn baseball fans might remember O'Malley's father, Walter, as the owner who broke their hearts when he moved "da Bums" to Los Angeles after the 1957 season. But in Vero Beach, Peter O'Malley is recognized as the man who is saving the city's beloved Dodgertown.
O'Malley successfully lobbied the current Dodgers owners to restore the Dodgertown mark after he gained control of the former spring training site and worked to create an all-purpose field for football and soccer from a former half-baseball field.
O'Malley said as long as an O'Malley family member controls Historic Dodgertown, the "Dodgertown" mark can be used. He said the name is "key to the business plan." 
"Re-branding was key," said O'Malley, who was a child when he and his sister, Terry, first got to know Dodgertown as kids in 1948 when the complex made its spring training debut.  O'Malley and his sister, Terry O'Malley Seidler, along with former Dodgers pitchers Chan Ho Park and Hideo Nomo, are partners in running Historic Dodgertown.
O'Malley acknowledged he has invested several hundred thousand dollars into Historic Dodgertown, and that doesn't include all his travel costs and time related to overseeing the multi-sport complex.
Meanwhile, Indian River County spent $2.4 million on a cloverleaf of four softball fields on the site of Walter O'Malley's old heart-shaped lake that was de-mucked and filled in next to Holman Stadium.
Callan said O'Malley has invested $250,000 to $300,000 in improving the 80-acre complex while also drawing $250,000 a year from Indian River County for capital improvements.
Indian River County owes $6.8 million on the $16.8 million Dodgertown purchase and shells out $860,000 a year to service the debt, Indian River County Administrator Joe Baird said. The $860,000 includes $500,000 from the state and the balance of $360,000 is paid with hotel room fee revenues. The county expects to pay off its share of the debt by 2021, Baird said.
O'Malley runs Historic Dodgertown with 22 full-time employees and revenue is now generated year-round instead of during the six weeks in February and March of Dodger spring training.
Identifying the level of spending from sports events in a local market is a controversial topic because many university economists say sports backers provide inflated financial impacts. But Baird said Historic Dodgertown's revised business model as a year-round sports center generates more spending in the local economy than the spending tied to spring training.
"It might not sound as sexy as having a professional baseball team having spring training in your city but the impact (from Historic Dodgertown) has been a lot more," Baird said.
Thanks to Historic Dodgertown, high school and college ballplayers poured into Vero Beach literally by the busloads in March, with local motel rooms along State Road 60 near Interstate 95 to the oceanfront filling up with players and their families.
Instead of Duke Snider, Jackie Robinson, Gil Hodges and Mike Piazza playing in 6,500-seat Holman Stadium, there were players from dozens of teams pitching, hitting and catching from morning into the evening at the historic ball yard and practice fields.
On a recent day, Historic Dodgertown fed 542 young players for lunch, with 26 teams in town and ballfields playing host to as many as four games a day. Multiply the number of games played per week by 52 weeks a year and Historic Dodgertown is home to more than 3,000 ballgames a year, Callan said.
Baseball camps of all types – from training sessions for minor league umpires to international baseball clubs to the plethora of youth and college teams – account for about 70 percent of the revenues, Callan said.
Football camps, softball events and other miscellaneous sports such as rowing and swimming training each generate about 10 percent of the revenues, representing the balance of Historic Dodgertown's income, Callan said.
The fact that non-baseball revenues account for 30 percent of overall income is a big deal. Two years ago, non-baseball revenue was only 10-15 percent, Callan said.
Callan said 60 percent of the teams stay off the grounds, which means local hotels, motels and restaurants host the teams and their families. But sports economists warn that those rooms would likely be occupied during busy months such as March, when spring break across the country triggers thousands of visitors to the Vero Beach area.
Historic Dodgertown even markets itself as a conference center, promoting its 20 meeting rooms that range in space from 200 to 3,000 square feet. With 89 motel rooms, two tennis courts and a pool, the place also sells itself as a "resort for young adults. We're a destination place," Callan said.
Not too bad for a historic baseball treasure that was on the verge of closing only a few years ago.  
"If we make money, (O'Malley) will not take a penny of it," Callan said. "It will be invested in the facility."