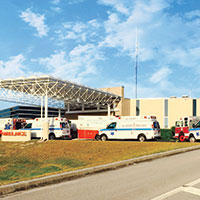 Indian River Medical Center again reorganizing ER
STORY BY ALAN SNEL

After years of complaints about patient wait times at the emergency room, Indian River Medical Center  is dumping its contracted ER operator, ApolloMD, and transitioning to a system staffed and run by its own physicians. This is the second time in the last couple of years that the hospital has changed its ER staff in the face of long delays for patient care.
IRMC spokesman Lewis Clark confirmed the transition, slated to be completed by June 1, noting that consultants recommended the hospital move to an ER covered by staff doctors instead of those provided by a contracted group.
Paul Giasi, IRMC emergency department medical director, is leading the transition, said Clark.
"The transition to an employed model is the best way to stabilize long-term physician staff for the department, while continuing to improve outcomes and patient satisfaction scores," Clark wrote in an email to Vero Beach 32963.
IRMC has struggled with long ER wait times for years. Little over two years ago, in December 2013, the hospital jettisoned a team of ER doctors under contract with Emergency Physicians of Central Florida and replaced them with the ApolloMD group in an attempt to improve patient care.
ER patients at IRMC waited on average six and a half hours to be admitted in 2013, with 2014 numbers showing that they had to wait an average of five hours and 45 minutes, with some people waiting much longer. Figures for 2015 are not yet available.
State and national average wait times for most of 2013 and part of 2014 were about four and a half hours, according to Medicare. ER waits at IRMC are also longer than those at either Sebastian River Medical Center and Lawnwood Regional Medical Center.
Meanwhile, in response to ongoing delays, Indian River County emergency response officials have begun monitoring the time it takes for its ambulances to transfer patients to a bed at the Indian River Medical Center ER.
Indian River County began tracking ER wait times about 60 days ago to create a database, said Brian Burkeen, Indian River County assistant chief for fire rescue.
There is a perception that ambulances are spending too much time waiting to transfer their patients to ER beds when they need to get back to the street in a position to respond to 911 calls, Burkeen said. "Over the last several years (emergency units) have been delayed at the ER because there are no beds."
Ideally, an ambulance crew should spend 15-20 minutes at an ER, encompassing arrival, transfer and vehicle cleaning, Burkeen said. Problems surfaced during peak seasonal periods when crews were spending as long as 45 minutes at the hospital – more than twice the targeted time.
Burkeen said Indian River Medical Center is not being singled out. He said county emergency services are also monitoring ambulance wait times at Sebastian River Medical Center, Lawnwood Regional Medical Center and Holmes Regional Medical Center in Melbourne.
Vero Beach 32963 reached out to ApolloMD in Atlanta to get its side of the story after its dismissal, but the company did not return two phone calls.