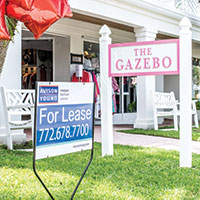 It's that time of year, and several stores are closing on Ocean Drive
STORY BY ALAN SNEL

Take a walk along Ocean Drive in the heart of the island's business district and – along with shoppers and tourists trying to dodge motorists at the Beachland Boulevard intersection – you will see some For Lease signs on retail storefronts as several longtime shops close or move.
Soiree Kitchen to Table closed on Saturday, after five years in business. Customers scored discounted buys last week at the kitchen utensil store at the northwest corner of Ocean and Beachland across from Sexton Plaza. Soiree was previously located at 690 21st St. in Miracle Mile Plaza, first opening in 2010.
Not only did customers walk away with great deals on kitchen items, the owners of nearby Countryside Citrus bought some of the store furnishings – a table and some shelving – from Soiree.
"It's sad they're closing," said Brittany Banack, a member of the family that owns Countryside Citrus, which sells juice, coffee, deserts and fruit at its Ocean Drive store and at a second location on 81st Street.
Soiree owners Eric Lahaine and John Strausberg declined to comment to a reporter on Friday about why their store is closing.
The former Soiree space is available, said Derek Arden, the leasing agent. The marketing sheet says the 2,068 square feet store will lease for $45 per square foot.
A few steps south of the Soiree space, Ann McEvoy is closing The Admiralty Gallery and retiring after 16 years. She leases 1,535 square feet at 3315 Ocean Drive.
"It's been a great run, great clients, great town," McEvoy said last week. Her gallery was known for marine paintings and other works of a similar theme, including paintings of the Indian River Lagoon, often by local or regional artists.
And nearby, The Gazebo women's clothing store at 3227 Ocean Drive is shuttering its current location and relocating to a side street around the corner at 919 Azalea Lane, where it will share space with The Lazy Daisy, a Lilly Pulitzer signature store, co-owner Julie Knight said. She said she's combining the two stores and will have five dressing rooms between the two shops.
The Gazebo will be with The Lazy Daisy starting on June 1.
Knight said The Gazebo opened four decades ago, and that she has owned it for the past 20 years. She said she is moving The Gazebo around the corner for better parking and lower rent.
Knight's husband, Dan, co-owns and runs Tusk Clothing & Gifts for Men at 925 Azalea Lane, two doors from The Lazy Daisy.  The couple also owns Otter Brown Home Garden & Gifts at 498 22nd Pl. on the mainland.
Arden said the space at 3227 Ocean Drive will be available June 1. The 900 square feet storefront will be offered at a lease rate of $55 per square foot, according to marketing information.