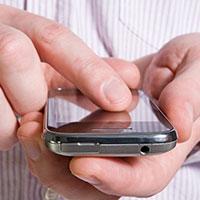 Man goes out to make cell calls, then found dead
STORY BY LISA ZAHNER

A 48-year-old man visiting his family in Indian River Shores on March 30 was found dead in the CVS parking lot on A1A seven hours after leaving his father's home to go "to make some conference calls."
Public Safety Chief Rich Rosell confirmed that the man apparently drove from his father's home in The Estuary, an area with poor cellular coverage, to the CVS location – which is closer to the Village Spires where there is a cell tower – to use his cell phone to conduct some business.
"This was a terrible tragedy, and our thoughts and prayers go out to this family. However, there is no way of knowing if the decedent's inability to make a cell phone call from his home played any part in his death," said Town Manager and former public safety chief Robbie Stabe.
"Hopefully, we will successfully implement whatever is necessary to provide adequate wireless service to the entire Town as soon as possible," Stabe added.
According to an incident report officers completed on the death, Randall "Randy" Clark was found dead in his white Jaguar around 6 p.m. after leaving his father's house at 10:30 a.m. The Shores said the case has been taken over by the Medical Examiner's office as an unattended death.
The manager and pharmacist from CVS performed CPR on Clark to no avail.
Officers reported Clark appeared to have been dead for some time when they arrived on the scene a few minutes after the call came in at 6:08 p.m.
Clark's body was drenched in sweat and his skin was already "cool" to the touch, paramedics noted in the report, with a suggestion that Clark may have been the victim of heat stroke.
The high temperature for the Vero Beach area on March 30 was 79 degrees.
Indian River Shores detectives are still lacking a key piece of information, the medical examiner's report, and according to Rosell, as of press time, "The cause of death is still inconclusive and we are waiting on the toxicology report to come back."
Public safety sources say Clark was parked on the south side of the CVS building nearest the Tracking Station beach, which is the least busy portion of the parking lot.
The deceased man's parents, Randall and Suzanne Clark of The Estuary, have a listing for a land-line telephone, and Vero Beach 32963 tried to reach them for comment, but the published telephone number goes directly to a fax machine.
A search of publications both in Florida and in California, where Clark lived with his wife and children, revealed no local obituaries had been published.
His wife, Isha Clark, a pediatrician in the Palo Alto area, did not return a phone call.