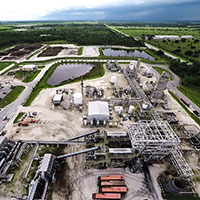 New questions raised about viability of INEOS biofuel
STORY BY SAMANTHA ROHLFING BAITA

National biofuel publications are questioning the viability of the INEOS ethanol operation on Oslo Road after running into the same stone wall of silence Vero Beach 32963 has encountered in trying to find out what is happening at the beleaguered plant.
Ever since the government-subsidized $130 million plant opened in 2013, questions have swirled about whether the secretive operation has produced marketable quantities of biofuel – or any at all.
So far the silence from INEOS has been deafening and, after more than two years, that in itself seems to support the word on the street in Indian River County: As one anonymous current employee recently put it, "not a drop" of biofuel has been distilled.
Now, the cloak of silence surrounding the plant is stirring up talk in the global biofuel industry as well, and it looks more and more that what appears to be the case is, indeed, the case: INEOS has yet to produce anything remotely resembling the 8 million gallons of biofuel per year its early press releases trumpeted.
INEOS Bio's much-vaunted game plan was to convert biomass – non-food vegetative and yard waste –into cellulosic ethanol, using its gasification and fermentation technology.  In brief, after a gasifier converts the feedstock into synthetic gas, bacteria metabolizes the syngas into ethanol.
However, a recent article from global industry market information provider ICIS (Independent Chemical Information Service) reports, "INEOS Bio will not confirm if its US cellulosic ethanol plant is running or if it has made significant amounts of the biofuel, leaving unanswered if its gasification route is a viable alternative to sugar fermentation. In addition, the company would not say . . . how much ethanol it has produced since start-up."
The Environmental Protection Agency also refuses to shed any light on production. Despite repeated inquiries from ICIS over a period of two months, "the (agency) would not disclose the amount of ethanol produced by the plant, saying that most companies consider such data confidential business information, meaning it could not be disclosed to the public."
Yet the plant was built with tens of millions of dollars in public subsidies from the state and federal government, and has been supported by hundreds of thousands of our tax dollars in county grants and tax credits, most of which were based on its renewable energy project.
In mid-2013, the Department of Energy, which has a vested interest since it provided a $50 million grant "to design, construct, commission and operate the Indian River BioEnergy Center," published a news story on its website reporting on "the nation's first commercial-scale cellulosic ethanol production at INEOS Bio's Indian River BioEnergy Center in Vero Beach, Florida." 
Although the definition of "commercial-scale cellulosic ethanol production" remains elusive, it now seems this early production report may have been premature at the very least.  
"Yes, we had the commercial scale fermenter running at that time, but not at full capacity due to the impurities in the syngas," an INEOS headquarters spokesperson stated in response to earlier inquiries, adding, "It has taken us longer than expected to put the plant through its paces and demonstrate full nameplate capacity, particularly in the area of cleaning the syngas."
Mark Niederschulte, the newest INEOS spokesperson, has declined to discuss anything to do with production, or lack thereof, and he now no longer even responds to inquiries.
Over the past two years, this paper has received numerous reports from current and former employees concerning various problems at the plant. They consistently state little or no biofuel has been produced. All request anonymity, saying they have been forbidden to speak on penalty of unemployment. 
In an e-mail to a former local INEOS employee, ICIS journalist Al Greenwood wrote, "For ICIS, this is important because INEOS could mark the second time that biomass gasification technology has failed. Rentech (a company with facilities in
12 US states, Canada and South America) had attempted similar technology to make synthetic fuel . . . Rentech gave up. Now, unless INEOS confirms that it's making ethanol, it may well mark another failure of this technology."