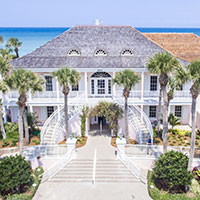 Sea Oaks proudly unveils revamped beach clubhouse
STORY BY RAY MCNULTY

Nearly three years to the day after members of the Sea Oaks Board raised the idea of renovating the community's No. 1 asset – its Beach Club – the finished product was finally set for its grand unveiling Tuesday night at a gala to which 500 residents and guests were invited.
The $3.8 million project, which took 12 months to complete, included a total remodeling of Sea Oaks' Georgian-style clubhouse, enlarging and improving the gazebo and beach bar, repaving the patio area around the oceanfront swimming pool, and a redesign and upgrade of the clubhouse's two kitchens to enable more efficient service.
"It's not just our biggest draw; it's an asset that gets used by everyone who lives here, and it's going to be around for 20 years," said Keith Miller, chairman of Sea Oaks' Beach Club Modernization Committee.
"Clubs that keep their facilities up to date tend to flourish," he added. "Those that don't often struggle. This was something we needed to do to remain competitive in this market."
Casual dining is now available at the new gazebo and expanded bar area, which includes shaded seating for 100 people. The concrete pool deck has been replaced with pavers. The pool-area restrooms are now air-conditioned.
Also, the exterior color of the clubhouse, which was built in 1983, has been changed from coral to pink.
Inside the clubhouse, both the formal dining room upstairs and casual dining room on the main level were completely redecorated. The new tile flooring has a wood-like look. The upstairs bar also received a facelift.
In addition, the stairwell was widened, giving the main entrance a bigger, brighter feel.
Handling the renovations were world-renown interior designer Thom Filicia, the Vero Beach architectural firm of Edlund, Dritenbas, Binkley & Associates, and Summit Construction.
"We can now offer both fine dining and casual dining overlooking the ocean," said Jeff Mullins, the former Duke University basketball All-American, Olympic gold medalist and NBA All-Star who moved to Sea Oaks in 2001 and serves as co-chair of its marketing committee.
"There's always been a lot of traffic around the pool, and the revamped gazebo and beach bar provide more seating for outdoor dining and a relaxed social gathering place.
"This completes the upgrades of all of our facilities and makes Sea Oaks more attractive in the market, especially to the younger buyers we need to reach."
Sea Oaks has 615 units – single-family homes and condominiums – that house 1,100 residents and renters during the winter. Roughly 30 percent of the community's residents live there on a year-round basis.
Although Sea Oaks is marketed as a tennis community, only about 50 percent of the residents play tennis.
In 2008, the Tennis Club and Community Center area underwent a renovation and expansion, which included the construction of a fitness center that has become one of Sea Oaks' more popular amenities.
As was the case then, some Sea Oaks residents also opposed the Beach Club improvements, which required a $3 million loan that increases each unit's monthly dues by $20. Despite the opposition, however, property owners voted 342 to 202 (62.9 percent) to approve the project in April 2014.
The cost of the project rose from $2.9 million when the vote was taken to the final $3.8 million price tag.
"We see this as something we had to do to remain competitive with other island communities for the next generation of buyers," Dick Heffern, president of the Sea Oaks Property Owners Association, said before the construction crews arrived last year.
"We think we're a good alternative to John's Island, Windsor, The Moorings and Orchid Island. But we have to continue to maintain and improve our common property," he added. "This project will enhance the look and feel of the community. To have a new Beach Club also adds value to everyone's unit."
According to Heffern and Mullins, many of those who voted against the 2008 improvements also voted against the Beach Club project. Some of them opposed the increase in dues. Some wanted the work done in increments. Some wanted the gazebo to remain as it is.
"When you're dealing with more than 1,000 people, you're going to get a difference of opinion," Miller said. "There were some people opposed from the beginning. There are some who are still aren't happy that we did it. But everyone seems to have accepted it.
"Most people here liked the idea," he added, "and they're going to love what we've done when they see it."