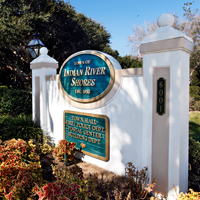 Shores Council could choose cell tower site on Friday
STORY BY LISA ZAHNER

After residents concerned about having a cell tower near or in sight of their homes packed a Town Council meeting, the Shores sent its consultant back to perform an exhaustive study of several suggested tower sites: In the final analysis, the Town Hall site apparently still is the Shores' best bet for providing good cell service.
Rick Edwards of CityScape Consulting on March 28 recommended the Town locate the tower on the Town Hall property or near the Public Safety complex, based upon his signal studies. Opposition erupted from the portion of the crowd who live in adjacent Bermuda Bay. Those residents wanted alternative sites – specifically the Bee Gum Point site at the end of Fred Tuerk Drive – investigated more deeply.
Edwards did just that, as well as looking at various sites in John's Island, and published his study results in a presentation to be given at 9 a.m. Friday in the council chambers at Town Hall. The 19-page presentation is available for viewing and printing on the Town's website www.irshores.com under "Latest Cell Tower Update."
After all the extra analysis, despite the very emotional resistance to erecting the tower near homes, Edwards' recommendation has not changed substantially from three weeks ago: The Town Hall site is best.
Town Manager Robbie Stabe summarized Edwards' findings. "The Town Hall site is the only one where we would only need a single concealed facility with the top array at 110 feet, 100 feet, 90 feet and 80 feet to be constructed either near Town Hall (wooded area) like a very heavily branched pine tree or built as part of the Public Safety building (blended in to look like it were built as a part of the existing building)," Stabe said.
"While the 'Bee Gum Point' location is still considered a possible location, it would need to be higher and the carriers would need to make changes to other elevated structures outside the Town limits. The Town cannot force them to do that," Stabe said.
More than 90 petition-signing residents from Bermuda Bay have put the Town on notice they're prepared to retain an attorney to fight the tower going up on the Town Hall property. On the other side, a group of residents from John's Island and The Estuary have already hired beachside attorney Michael Haire to keep from having the tower in their line of sight at the Bee Gum Point location.
The Town Council is expected to vote on a location Friday; the next step will be developing a plan to be marketed to major cell phone carriers.
Once a commitment is obtained from AT&T, Verizon and others to put their equipment on the cell tower, Datapath Consultants, which will be building the tower and sharing proceeds with the Town, can proceed with final design and permitting efforts.