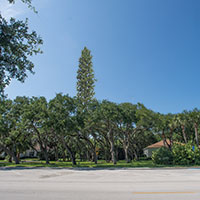 Shores to disguise cell tower as pine tree on Town Hall property
STORY BY LISA ZAHNER
Photo: Shores Council votes to site a 115-foot mock pine tree cell tower on Town Hall property.

After nearly a dozen years of dithering, the Indian River Shores Town Council voted last week to locate a 115-foot cell tower, disguised as a massive pine tree, on Town Hall property, with the exact spot to be determined later.
The decision made enemies and potential litigants out of 90 Bermuda Bay residents who have signed petitions opposing the move, which is intended to remedy notoriously bad cellphone service that has long plagued residents of the wealthy town.
By a four to one vote, the Town Council adopted its consultant's recommendation based upon radio-frequency studies showing that the Town Hall location would provide the best service, without relying on upgrades to other cell towers to eliminate dead spots. (Whether or not the owners of those towers and the carriers would invest in those upgrades is beyond the Town's control.)
Vice Mayor Jerry Weick, who lives in Bermuda Bay, cast the lone "no'"vote.  Bermuda Bay residents oppose the Town Hall location because it will be only a few hundred feet from their homes, and they fear it will impact their property values and quality of life.
The residents showed up last week for the vote on the tower with Miami attorney Dan Reid, but Town Manager Robbie Stabe said that he hopes continued dialogue with several key representatives from Bermuda Bay will eliminate the need for costly litigation that might hold up the project.
"I have not heard from . . . [Dan Reid], as of now," said Stabe. "I really don't expect to. I have primarily met regularly with three residents of Bermuda Bay – Jim King, Mr. Seawright and Mr. Ferguson. I have also met with Penny King and Dr. Becker in the past but not lately."
Bermuda Bay's major beef is that the Town Hall tower will impact nearly four times more homes than the alternate location at the end of Fred Tuerk Drive near Bee Gum Point. Only a couple dozen homes in John's Island and The Estuary would have their vistas marred by that location, adjacent to the Vero electric substation.
It was this disparity in the number of homes affected that Weick said caused him to vote no on the tower plan last week. Weick is term-limited in November, so his vote is not seen as grand-standing for re-election, but a gesture of loyalty to his neighbors.
The John's Island and Estuary residents, who are represented by beachside attorney Michael Haire, have in the past spared no expense or effort trying to bog down approval of a tower near their homes with nasty letters and threats of litigation. 
Despite the controversy, Town officials hope to actually bring the tower to fruition in the next year or so. Increasingly, the need for a tower is being viewed as a matter of urgent public safety as residents rely more on cell phones, and less on landlines, for basic communication and for dialing 911 for help in an emergency.
"I plan to continue to meet with the same group from Bermuda Bay that I have been meeting with for months and try to zero in on the exact location that they are happy with," Stabe said, adding that the Town must have exact location coordinates so its tower contractor Datapath can move forward with permitting, environmental studies and Federal Aviation Administration approval.
"I have also requested as many photos of actual monopine towers as possible that Stealth Concealment has manufactured so we can determine exactly which one looks most realistic."
Mayor Brian Barefoot warned residents that the decision to go with a "monopine" tower would be costly, and that residents may end up paying up-front costs for the tower in their taxes. Once the tower is up and running, the Town can replenish those funds via the portion of the proceeds it will receive from fees paid by carriers to be on the tower. Barefoot said the Town's reserves are meant for emergencies, not for this type project.
The monopine, depending upon the manufacturer and model selected, carries a price tag of nearly a half million dollars for design, permitting and construction. The "stealth" tower will be covered in foliage crafted of a Fiberglas-like material in an effort to disguise its function.
Datapath Towers originally agreed to pay half of the $300,000 estimate for an unadorned monopole tower or a monopole with some palm fronds on it. But the monopole was not an aesthetically acceptable option when it came down to a vote on the plan, so Town residents may need to pick up the tab for the pleasure of seeing a towering faux pine tree instead of bare cell tower transmitter arrays on the skyline.
Stabe said he hopes to be able to re-negotiate the deal with Datapath so the Town won't have to pay the entire $150,000 difference between the monopole and the monopine.
A clock tower concept was also looked at, but that type of camouflage would be a major upgrade, costing about $1 million.
Just to cover its bases, the Town Council included in its motion a cost range of $300,000 up to $700,000 for the tower, with the funding source to be determined.
The Town will begin its budget process for the next fiscal year in the next month or so, with the Finance Commission looking at projected expenses and revenues and the Town Council voting on the budget over the summer for the 12-month period beginning Oct. 1.