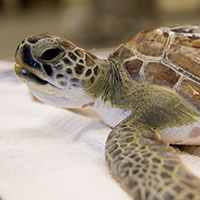 A good summer for sea turtles – except along South Beach
STORY BY LISA ZAHNER

This summer has been auspicious for endangered Loggerhead sea turtles in Indian River County, but it could have been even better had condo residents near South Beach Park followed lighting regulations.
As of last Thursday, county officials report 7,142 Loggerhead nests, which Sea Turtle Coordinator Kendra Cope said is 499 more than the previous record year in 2012, when turtle monitors found 6,643 nests. That was the good news that Vero Councilman Dick Winger reported back to the City Council from his most recent Beaches and Shores Preservation Committee meeting.
On a sadder note, Winger also reported that one pocket of Vero Beach – the condominiums that hug South Beach Park – have apparently caused serious loss of life among turtle hatchlings. When the tiny turtles break out of their shells, their only directional cue to get safely to the ocean is the moon. When other, artificial lighting confuses the hatchlings, they can trek west toward the dunes and buildings instead of to the surf, leaving them exposed to the elements, to predators and to man-made hazards.
"We have recorded a large number of hatchling disorientations in that area, many with 100 percent disorientation with hatchlings ending up in condo pools and wandering the dunes," Cope said. "South of the park are many major condos which all have visible exterior lights."
Unlike the familiar gopher tortoises seen in coastal areas, sea turtles must remain wet to stay healthy, and if stranded away from their saltwater home, they will perish in just a few short hours.
Surveyors monitor oceanfront lighting on a monthly basis, using a protocol followed countywide, Cope said. "These surveys have revealed violators in that area. Having multiple hatchling disorientations in that area only solidifies there is a lighting issue," Cope said. 
"County Staff has been in contact with VB code enforcement to solve the lighting issues," Cope said.  Vero's code enforcement falls under the jurisdiction of Police Chief David Currey, who said "Code Enforcement has issued warnings and informational literature to this point."
City code regulates artificial lighting on the beach during turtle season, March 1 through Halloween, requiring that "the point source of light or any reflective surface of the light fixture is not directly visible from the beach."
"The best thing these condos can do is recommend their residents close their blinds or curtains at night, shield exterior lights used for safety to direct light away from the beach, and turn off unnecessary exterior lights to reduce glow or illumination of the beach," Cope said.
Beachgoers can also help protect turtles by walking along the water's edge at night, as opposed to traipsing around on the dune where turtles nest. Also, informational cards produced by the county state, "Don't approach, touch, or stand in front of an adult sea turtle; don't touch or dig out hatchlings; fill in holes on beach; remove beach furniture or recreational equipment overnight; dispose of trash properly."
Individuals violating regulations set up to protect sea turtles can be fined and even prosecuted, under a variety of local, state and federal laws. To report disoriented or distressed turtles, call the Florida Fish and Wildlife Conservation Commission at 888-404-3922, or Indian River County's turtle protection staff at 772-538-0616.
With better education and heightened enforcement, sea turtle advocates like Cope are hopeful Indian River County can build on this year's momentum with regard to sea turtle hatching and success rates.
"County staff is excited to keep monitoring sea turtle nesting in future years to look at long-term trends of nesting to help with the management of these protected species," Cope said.