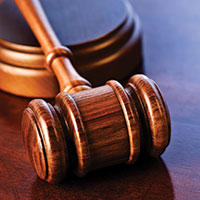 Accused South Beach killer jettisons public defender
STORY BY LISA ZAHNER

Asbury Lee Perkins, the 57-year-old man facing first-degree murder charges for shooting his estranged wife Cynthia Betts in her Seagrape Lane home last November, has been granted permission to act as his own attorney.
After what's called a Feretta hearing, where the defendant is asked a series of questions to determine his understanding of the difficult task he is taking on, and to discern his level of legal expertise and general knowledge of the law and rules of evidence, Judge Cynthia Cox ruled that Perkins be permitted to jettison his public defender Alan Hunt and represent himself in a jury trial, according to court records.
Assistant State Attorney Chris Taylor, who is tasked with prosecuting the case, said the typical questions in a Feretta hearing center around the defendant's understanding of criminal justice proceedings. Suggested questions included in a resource for judges lists queries about whether or not the defendant knows how to conduct jury selection, and how and when to object to hearsay, make motions for evidence to be challenged and request a mistrial.
The defendant is also asked if he understands the charges against him, the legal elements that must be proven to convict on those charges, and the maximum penalties prescribed by law in the event of a conviction. Along with all that, the defendant must be making the decision voluntarily, and be mentally competent to make the decision – just as if he were taking a plea deal and waiving his right to a jury trial.
Taylor said he remembers only one previous local murder case in which a defendant served as his own legal counsel – Louis Deangelo, who was convicted of second-degree murder in 2008 for the 2006 killing of Joann Gray. The jury found Deangelo, then 45, had been a worker in Gray's home when he killed her, stole $12,000, her computer and her car, which he used to transport her corpse to Wisconsin, where police found her frozen in the  auto's trunk months later.
Perkins – who records say initially confessed to police when they found him inside the home on Nov. 3 with Betts' body rolled in a rug and her hands in plastic bags – said he shot Betts because she had taken money from their account and because she "nagged him" constantly.
Perkins was originally arrested on second-degree murder charges just like Deangelo, but the charges were upped when he was indicted by a grand jury for first-degree murder. If he is convicted, he could be sentenced to death. Under a new Florida law, 10 out of 12 jurors must recommend execution as an appropriate sentence. Prior to this past March, only a majority of jurors had to vote for the death penalty for it to be imposed.
Public Defender for the 19th Circuit, Diamond Litty, said it's extremely rare for a defendant in a death-penalty case to take over his own defense. Litty said Perkins now has the right to use any casework, depositions or other discovery documents and evidence collected and compiled by her staff. "He now owns the case as the client," she said.
Litty said sometimes one of her attorneys is assigned to serve in a back-up capacity – in case the defendant gets overwhelmed at some point and wants representation – but that type of assignment has not happened yet in this case. Having an attorney follow the case and sit in on proceedings is a drain on resources. "It takes time away from our clients who want us to represent them," she said.
Litty said she was not able to comment about what led up to Perkins' petition to sever his relationship with Assistant Public Defender Hunt.
She said she was unaware of any complaints Perkins might have had about his representation. Perkins has previous experience with the Public Defender's Office, on more minor charges, as he has a litany of about a dozen cases in the county court system dating back to 2010, including domestic violence and criminal traffic convictions for driving under the influence.
Taylor and Litty both confirmed that Perkins will get no extra privileges while incarcerated at the Indian River County Jail to aid in preparing his case, taking depositions or conducting research.