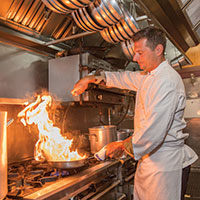 Scampi Grill moving to new location
STORY BY MICHELLE GENZ
Photo: Chef Alex Amelio

If the devoted fans of Vero's Scampi Grill have one criticism to offer, it would be the restaurant's location, squeezed into a worn-out building on the dog-leg of U.S. 1, with a hard-to-negotiate, hodgepodge of parking in the dingy lot behind it.
That complaint is about to be rectified. Come fall, Scampi Grill is moving to a much more accessible 2,200-square-foot building on 20th Street. And just to make sure it's easy to find, the building has just been painted a shade of red you could certainly call saucy.
It's a color chef-owner Alex Amelio would have seen adding a dollop of cream to a purée of plum tomatoes long before he started working with his father Mimmo, who opened Scampi across from the Patio restaurant in 2000. (Scampi is just one of a half-dozen local restaurants that have been owned at one time or another by Mimmo's extended family, who moved here from Naples, Italy.)
 A chip off the old block, Alex loved cooking even as a child, helping out his mother Grazia in the kitchen. When he was 15, he got a job at Brian Gilbert's Black Pearl, and within weeks, was working under lead sous-chef Leanne Kelleher, now chef-owner of the Tides.
"I lied on my application," says Alex. "I said I was 16."
Three years later, he came home from Santa Fe Community College and approached his dad about joining him at Scampi. To call it "asking" might be overstatement; Alex was a headstrong child who had learned how to barge past the edicts of his equally headstrong father.
He knew he loved restaurant work, the split-second timing of the dinner rush, the nimble people skills that kept a staff loyal, the relentless pressure on vendors to deliver only the best ingredients. And of course the creation of the dishes.
Alex knew he didn't fit the mold his father envisioned for him, a life as a professional like his two brothers.
"He didn't want us to have anything to do with the restaurant business, and I don't blame him," says Alex, now married to Emerald, his high school sweetheart, and father to four children under the age of 8. He says his dad knew how restaurant work impacted family life and didn't want his sons to make that sacrifice.
"But like I said, I was never one to listen to anybody anyways. Finally he said, 'Come join the team.'"
Alex was only 19 when he took over the apron from his dad. From the start, each had his turf. "You stay out of my kitchen, I'll stay out of the front," he told his dad. "It actually worked awesome."
It was a little harder working with vendors, particular of the seafood in Scampi's signature dishes. "I'm a pain in the ass when it comes to fish," he says. "I've gone through every fish purveyor there is because most say 'Alex, I don't want to do business with you because you won't accept my fish.'"
Finally he found a small company whose boats went out for short trips, meaning the catch was fresher – and more familiar.
"It was rocky the first couple of months. For me, fish has to be spot-on, the right color, the right smell, the right portion. There's tricks you learn over time, like if it comes from darker waters it's going to taste a little stronger. Now the drivers know don't bring it to me because I won't accept it. I pay a little bit more, but I don't mind."
With time, Alex has enabled his father to take semi-retirement. "I went in, and Dad went home."
But it wasn't the cakewalk some might imagine when a son takes over an already thriving family business. "It was tough. The first three years? Very tough. I can't tell you how many times that anybody else would have closed the doors. I was working 100 hours a week making less than $5 an hour."
Last week, Alex found himself hand-striping the parking lot with a paint roller – not in the new location, but in the old. "I have to do it every six months. The landlord hasn't done it in 16 years. How are people supposed to see where to park?" he says.
As for the new location, he has enlisted contractor Tony Della Porta to help build it out, a process that started six months ago. The building originally was intended as a beauty salon when it went up in 2006 at 815 20th Street, but plans fell apart and it remained unfinished with a dirt floor and no parking lot. By the time the Amelios bought it several years ago, it also needed a new roof.
"It was great because it was a blank canvas. I didn't have to worry about busting up concrete. I can do whatever I want," says Alex.
He expects the new Scampi Grill to be open sometime in October. The menu will be barely tweaked, he says – they will still make their own sauces, pasta, mozzarella and duck sausage. They'll have a slightly larger dining area with 76 seats instead of the current 58. A couple of areas will be separated from the main dining room to give diners an option for a quieter meal.
The kitchen will be open, a feature Alex enjoys. He expects to add live music, too.
The Tuscan-themed decor will feature natural wood and stone elements against walls in a warm red-orange created by Alex himself. "I took two paints and mixed them together. My dad said it was the coolest color he's ever seen – the coolest warm color," he notes in a nod to his dad's talent as an abstract artist.
"It'll still be cozy," he says.