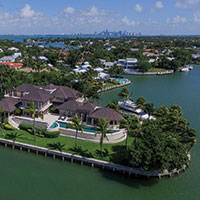 Trading their 'Miami Vice' home for Vero's lower-key, sophisticated lifestyle
STORY BY STEVEN M. THOMAS
Photo: Key Biscayne home of Aurelio and Berta Fernandez, who are relocating to Vero.

When retired tech executive and real estate investor Aurelio Fernandez and his wife Berta, a pediatrician, put their Key Biscayne home on the market last week for a heady price, the Wall Street Journal jumped at the chance to write about the stunning waterfront property, which was featured in the 2006 movie "Miami Vice."
It was only at the very end of the article that the Journal mentioned the couple is selling the house in order to relocate to Vero Beach.  A reader of the online version of the article commented: "Key Biscayne to Vero ... Boy, I hope they know what they're in for."
In fact Aurelio and Berta Fernandez have a pretty good sense of the lifestyle on Vero's barrier island.
They have been spending time here and investing in real estate on the island for three years, buying a home on Egret Point in 2013 and then going on to purchase a house in John's Island (since sold), two oceanfront homes, two beautiful houses on Painted Bunting in Old Riomar, and an Ocean Park condo. 
"If you are going to live in a large city like Miami, there isn't a better place than Key Biscayne," Aurelio Fernandez says.  "It is a quiet, beautiful place we love, but when you cross the causeway, it is a very different feeling. It is great if you are looking for the heat a big city offers – all the restaurants and clubs, the Marlins, but we prefer the lower-key atmosphere and attitude in Vero Beach.
"If you are looking for a city with sophistication that is still fairly undiscovered – and that offers tremendous value from a real estate perspective – it is tough to beat Vero Beach.
"There is much less crime and you don't have the Miami traffic, but you do have the art museum and theater and lots of great restaurants – and very nice people. It is like Naples was 25 years ago, a real gem."
Fernandez says he likes Vero so well that he has convinced three of his friends to buy homes here.
Fernandez had a distinguished career in high-tech in the 1980s and 1990s, ending up as vice president of worldwide sales for Broadcom, one of the great success stories to emerge out of the 1990s tech boom that survived the downturn to become the premier communications chipmaker in the world with a market cap of more than $50 billion when it was acquired this year by Avago Technologies. He retired in 2002, moving back to south Florida where he and Berta grew up.
According to the Journal, the Fernandezes bought the Key Biscayne property for $3.6 million in 2001 and built their beautiful tropical-themed house in 2004. The 12,000-square-foot house sits on a peaceful peninsula with 480 lineal feet of water frontage and features a 22,000-gallon koi pond with 200 fish and a dock suitable for a 100-foot yacht.
"When I retired from Broadcom, I went into real estate with my son," Fernandez says. "We had seven properties in Key Biscayne, remodels and new-builds that we rented out and did quite well."
He is cashing out of the island now, in part because prices are high.
"I am a values guy always," Fernandez says. "When we discovered Vero Beach, I told my son we could do the same thing here," investing in residential property and upgrading to lease or resell.
Matilde Sorensen represented the family in all the Vero purchases except one handled by Cindy O'Dare.
The Fernandezes discovered Vero when they bought a 1,000-acre ranch west of town where they are in the process of building up a grass-fed beef operation to supply increasingly health-conscious consumers with a superior grade of meat.
"Dad had a ranch in Cuba and one in Okeechobee in the 1980s and I have wanted to be involved in ranching since retiring from Broadcom," Fernandez says.  "It has become more of a fulltime business than I anticipated, but the ranchers out there have been incredibly helpful and we are getting close to the point where we will be able to turn the operation over to our ranch manager."
The Fernandezes are members of John's Island Club and when he is not absorbed in his business enterprises, Fernandez likes to golf, though he says he is "terrible at it."
Berta Fernandez has been volunteering at free clinics to help the needy for 17 years, starting at the Laguna Beach Community Clinic. She now volunteers at St. John Bosco Clinic in Miami, providing pro-bono medical care to children from the Little Havana neighborhood.
The Fernandezes haven't decided where they will live when they move here fulltime, which will happen when the house on Key Biscayne sells. In the meantime, they split their time between South Florida and Vero.