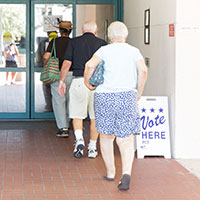 Will money tell the tale in next week's elections?
STORY BY STEVEN M. THOMAS

This hasn't been the most dramatic county election season in memory, but it's always interesting to look at the cash flows of local campaigns, if only because you can see who your friends and neighbors are mailing checks to. The numbers also provide clues about who is likely to win.
Thanks to the website maintained by Supervisor of Elections Leslie Swan, it is easy to go online and see not just totals raised and spent for every race in the county but an itemization of every single individual contribution, who gave it, and how contributions and expenditures compare to money raised and spent in prior elections.
This is the time to look at campaign finances because, since no Democrats are running, almost all county races will be decided in the Aug. 30 Republican primary. Whoever wins the primary is, in effect, elected, several months ahead of the full-on November election.
This cycle, 47 candidates for 21 county positions raised a total of $769,694 in cash through mid-August. Add $73,309 worth of "in-kind" donations – things like food, campaign material and professional services – and the county office total raised for this election comes to $843,000. Three county commission seats, two school board seats, all the constitutional offices and a bunch of other less prominent positions are up for grabs.
One thing that jumps out of the numbers is that Deryl Loar does not feel much threatened by his opponent Darrell Rivers. Loar raised only $89,625 ahead of the primary, far less than the $179,150 he collected in 2012 to fend off a more serious challenge from Bill McMullen, and less than half of the $209,594 he raised in 2008 when he was running for sheriff the first time.
District 5 County Commissioner Bob Solari on the other hand was taking no chances facing a challenge from Vero Beach Mayor Jay Kramer. Kicking his fundraising into high gear, he pulled in $130,591 as of mid-August, giving him the highest total of any candidate running for a county office this year.
Solari spent most of it, too, doling out $100,957 for advertising and promotion in what looks like will be a successful effort to hang onto his job, more than the spending total for all four candidates in a hard-fought contest for the District 3 County Commission Seat.
In that race, incumbent Tim Zorc has raised $42,579 to fend off three challengers, including a well-funded effort by retired county fire department captain Joe Earman. Earman, who's also been general manager of the county fair, has hauled in $52,592, $10,000 more than Zorc, but the power of incumbency and name recognition may swing the race Zorc's way.
The District 1 commission race has been low key, with a combined total of only $46,000 raised by three candidates – two active and one who has withdrawn. Former Fellsmere Mayor Susan Adams raised almost all the money, $36,285, which probably means there will be a woman on the county commission for the first time in years.
By contrast to that low-dollar race, a record amount of money has been raised by two candidates for the District 5 school board seat. Highly motivated opponents Tiffany Justice and John Kim both hauled in more than $30,000 for a combined total of $69,015, the most money ever raised in a school board contest.
The total is more than four times as much as was raised in the three-person District 3 school board race, where Laura Zorc has taken in $12,769 and two other candidates have raised a combined total of less than $2,000.
The only competitive race for a constitutional office is the acrimonious contest between longtime incumbent Property Appraiser David Nolte and County Commissioner Wesley Davis. Davis seems to have the upper hand, outraising Nolte $89,630 to $39,430. The other constitutional officers – supervisor of elections, clerk of the court and tax collector – are running unopposed.
In state races here, candidates running for the House District 54 seat, which is being vacated by term-limited Debbie Mayfield and includes all of Indian River County, have raised half a million in cash as of the second week in August. Loans and in-kind contributions raise the total to $635,000.
Lange Sykes leads the fundraising sweepstakes with $249,878 in cash collected, much of it from insurance companies and political action committees, while Erin Grall took in $210,530 with strong support from fellow attorneys.  Minister Dale Glading received $36,589 in cash contributions and another $36,083 worth of in-kind donations. A fourth candidate, island physician Greg MacKay, has spent nearly $40,000 of his own money running for the house seat.
Trying to move up the political food chain, Mayfield is one of five contenders in State Senate District 17 – which includes all of Indian River County and about half of Brevard County – who have spent nearly a million dollars seeking a job that pays $30,000 per year. Mayfield has been the biggest spender by far, shelling out $604,738 in pursuit of the seat.
All told, candidates for state rep, state senate and county offices have taken in $2.6 million in cash, loans and in-kind donations.
Based on donations, to the extent they reflect political support, Loar, Davis, Solari and Adams look like shoo-ins, while the contests between Zorc and Earman, Justice and Kim, and Sykes and Grall could go either way.
To look at the county numbers yourself, go to:
http://www.voteindianriver.com/Candidates/Candidate-Profiles-and-Financials
State numbers can be found here:
http://dos.elections.myflorida.com/candidates/CanList.asp