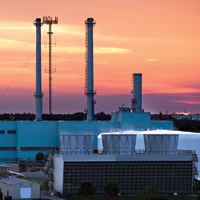 Will Vero vote next week on new FPL offer?
STORY BY LISA ZAHNER

Florida Power & Light officials this week were trying to figure out how to deal with objections that could muck up prospects of a Vero City Council vote this coming Tuesday on their $30 million offer to purchase the 3,000-plus electric customers in the town of Indian River Shores from Vero electric.
A three-page written offer was sent to Vero officials last Thursday, about a week after FPL's shocking announcement that it would more than double its $13 million offer to purchase the 80 percent of Shores' residents it does not already serve.
Though city officials immediately bristled at the still sizable "gap" between Vero's asking price and what FPL is now offering, this latest offer from FPL was seen as the Shores' best chance yet of getting FPL as the Town's power provider.
"To make a transaction happen, you have to have a willing buyer and a willing seller. Here you have a willing buyer and a willing seller, it's just a matter of what price," City Manager Jim O'Connor said.
But what had not been immediately clear about FPL's $30 million offer was that it proposed that Vero sign over transmission, inter-connect and substation assets – not directly tied to purchase of the Shores' customers – valued at $8 million.
O'Connor said he had pleaded with FPL to streamline the terms of the deal for the Shores' customers, but what came to him in writing last week had some problems.
"We had been talking with FPL for some time about them purchasing some transmission assets down at the Fort Pierce line, an inter-connect between Vero and Fort Pierce and the Emerson substation down there, but that's a totally different topic," O'Connor said. "I asked them to please keep this offer simple and not put those transmission assets in there."
Compounding the confusion, O'Connor said that when he sat down last month with FPL and Shores officials, FPL said they might or might not want to include the inter-connect and substation in the deal.
"They said if they decided not to include it, that the price would still stay the same, that it would still be $30 million," O'Connor said, more than a little puzzled.
On Monday, as the offer was circulated to members of the Vero Utilities Commission who were scheduled to dig into it and make a yea or nay recommendation to the City council, O'Connor was still concerned about mixing the offer for the sale of the Shores customers with the transmission assets.
He was also unclear how Vero could ensure that it would have transmission rights from the south along the 138 kilovolt line to bring power into the city should there be a snafu with transmission lines headed to Vero from the west.
The last thing Vero would want to do is to commit to a long-term, annual transmission or "wheeling" fee to be paid to FPL for use of transmission lines that the city for decades has owned.
FPL's offer letter states that its takeover of the transmission assets would relieve Vero of compliance obligations with state and federal energy regulatory agencies, saving the city an unknown sum annually.
But O'Connor said some research he's done showed that not to be so cut-and-dried. "It wouldn't completely take away the compliance that we need to do; it would just reduce the number of forms we have to fill out," O'Connor said.
Late Monday afternoon, FPL spokesperson Sarah Gatewood said the matter of the transmission assets was still uncertain. "Some concerns have been raised and it's still being discussed whether or not those items will be taken out of the offer," Gatewood said.
The inclusion of the transmission assets could be eliminated on the fly during a presentation to Vero's Utilities Commission on Tuesday, which would be in time for the noon Wednesday deadline to have the FPL purchase offer placed upon the Aug. 16 council agenda.
Mayor Jay Kramer, a longtime proponent of a "partial sale," reportedly stated publicly last week that he was not prepared to vote on the offer at next week's council meeting.
Kramer is running in a contentious Republican primary race against incumbent Bob Solari for a seat on the Indian River Board of County Commissioners, and should Kramer be defeated, he is expected to file to run for re-election to Vero's Council.
Tabling the issue, or side-tracking it with a study for a few weeks, would take the pressure off Kramer to vote "yes" to curry favor with influential Shores campaign donors and supporters.
If would also give potential pro-sale challengers to Kramer's Vero council seat a few less weeks to raise dollars and marshal support.
Based upon statements expressing concern the city ratepayers be "made whole" and protected from all possible contingent liabilities and rate fluctuations, Councilman Dick Winger and Vice Mayor Randy Old are expected to vote against accepting FPL's $30 million offer, should the matter actually come up for a vote on Aug. 16.
Councilman Harry Howle and Councilwoman Pilar Turner have long supported sale of the Shores customers to FPL. Kramer is seen as the swing vote.
Turner said Monday, based upon what little she knew about FPL's written summary of its offer, no study or consultant analysis is needed.
"We've worked this to death," Turner said. Turner has been highly skeptical of the assumptions that led to Vero's initial $67 million pricetag, which was quickly reduced to $64 million and a few months ago further tempered to $42.4 million – a figure designed to provide revenue replacement for the Shores customers who would be leaving for a whopping 50 years.
Utilities Commission Vice Chair Bob Auwaerter shares Turner's misgivings about Vero's consultant's numbers. Auwaerter completed his own analysis in the lead-up to this Tuesday's commission meeting, and said he believes the $30 million cash being offered by FPL would be a godsend to Vero and could be used to vastly improve the city's balance sheet.
Assuming that Vero electric made a concerted effort to reduce its variable operating costs commensurate with having 8.7 percent fewer customers to serve, fewer lines and poles to maintain, fewer meters to read and fewer customers to process payments from – and assuming the city either pays down some debt or invests the cash in income-bearing securities – Auwaerter calculates that it would only take $26 million to $28 million to make the city whole.
"So the FPL offer is a good offer, it's more than adequate," Auwaerter said.