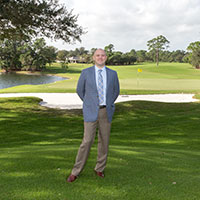 Bent Pine embarks on $4 million renovation
STORY BY RAY MCNULTY
Photo: Bent Pine's new general manager Hugh O'Donnell at the Bent Pine Golf Club.

They're calling it their "Vision 2020 Enhancement Program" – a $4 million renovation project that members and management say will ensure that Bent Pine Golf Club remains competitive in the local market.
"We're just trying to keep up with the Joneses," said Bent Pine's new general manager, Hugh O'Donnell, who was hired in July and is overseeing the project. "We're hoping to enhance the experience of our current members and attract new ones.
"We think these improvements, both outdoors and to our clubhouse, will create excitement and get more people to take a look at us and see what Bent Pine is all about."
O'Donnell said Bent Pine members "overwhelmingly approved" the project in March, and the club has submitted its site plan and renderings to county officials with hopes of embarking on the first phase of the renovations this spring.
The initial phase includes construction of a new, longer, 50,000-square-foot driving range, which will be relocated to vacant land between the first and third holes. The existing driving range will be transformed into a short-game practice facility that includes chipping areas and bunkers.
The practice putting green will remain intact, but improvements also will be made to the arrival area.
"The club is more than 35 years old, and our driving range needs to be lengthened to keep up with the game's technology," O'Donnell said. "People are hitting the ball longer now."
"We want to provide as much member satisfaction as we can, and technology has become a significant part of the business," said Ken Watson, president of Bent Pine's board of governors. "We're making significant changes to our driving range and short-game area with the goal of having one of the best practice areas in Florida."
The second phase of the project, as stated on Bent Pine's website, includes a "redesign of the bar and grill room to open the views of both the 9th and 18th greens and fairways as a backdrop to informal outdoor dining."
Specifically, the renovated clubhouse will feature covered outdoor dining facilities, a new South Patio with a fire pit, new Joe Lee Pub & Grill (named after the course architect), new room dividers in the Terrace Room, as well as a new wine room and trophy room.
The Clubhouse's lower level also will be enhanced with refurbished card and locker rooms; renovated wet areas with new showers, sinks, toilets and tile; and a conversion of the snack bar into a better-designed counter operation.
"We began talking about this a few years back and created a vision for where the club needed to go," Watson said. "We're in the membership business, and the market here is competitive. You look around the area, and you'll see that a lot of major clubs have undergone or started renovation projects in the last five or six years.
"It's something you need to do every so many years, just to remain competitive," he added. "We're a golf club. We've got a great golf course. We want to attract avid golfers. To do that, we need to make these improvements."
O'Donnell said Bent Pine currently has 290 total members (225 golf, 63 social) and can handle a maximum of 290 golf members. The cost of a golf membership is $12,300 annually, after paying a $25,000 initiation fee. There are no reserved tee times at Bent Pine, where O'Donnell said members "can get on the course pretty easily."
The 2008 recession crippled the golf industry, which saw its sales, participation and membership numbers plummet. Now, with the national and local economies having recovered, the industry is coming back.
"Especially in this town," said O'Donnell, who, after graduating from Virginia Tech with a bachelor's degree in hospitality and tourism management, worked at Orchid Island, Windsor and Quail Valley before moving on to jobs in Rancho Mirage, Calif., and Sarasota. He returned to Vero Beach last summer.
"I've been back here about six months, and I've seen the numbers of rounds increase," he added. "As long as the economy keeps improving, I think we'll see those numbers continue to improve. This club is in good shape, financially."
Bent Pine – named after the distinctive tree on the 18th fairway – opened for play in 1979, after a small nucleus of men, mostly from John's Island, came up with the idea of building an intimate, private club with a championship-caliber course and membership so limited that no tee times would be necessary.
In fact, Bent Pine was the first golf facility carved out of the local sand ridge on which several golf courses have since been built: Red Stick, John's Island West, the Moorings at Hawk's Nest, Indian River Club and the county-owned, aptly-named Sandridge.
"Bent Pine was built as a second club, but that's no longer the case for a majority of our members," Watson said.
"We do have some members who also belong to other clubs up north. We have some who also belong to clubs on the island. But for most of our members, this is their club."
Many Bent Pine members came to Vero Beach from the Northeast and Midwest, Watson said, and the club will continue to attempt to lure golfers from those regions.
"We're targeting people who are about to retire or are beginning to think about retirement," Watson said. "Many of them come to Vero Beach for vacations or to visit friends, and a lot of them end up liking the place so much that they consider moving here."
Watson is already looking past the currently planned $4 million in club upgrades to even more improvements aimed at pleasing current members and attracting new ones.
"We have a terrific golf course, but we'll more than likely have to do a re-grassing in 2021 or 2022," he said. "When we do that, we'll probably look at some bunker and sprinkler changes, but it won't be anything major.
"We want to maintain the original design, which people really like."