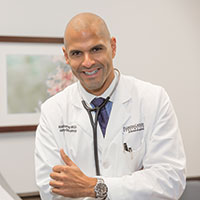 Clinical trials to be open to Vero cancer patients
STORY BY TOM LLOYD
Photo: Dr Raul Storey

Florida Cancer Specialists and Research Institute will make scores of clinical trials of cancer drugs available to to Vero Beach patients in the coming year, potentially providing a second chance for those with hard-to-treat cancers or a more effective treatment for others on existing cancer medications.
According to local oncologist Dr. Raul Storey, between "80 to 100 clinical trials" will be open for enrollment by patients here, aimed at "every different type of cancer."
Florida Cancer Specialists and Research Institute, which opened its office in Vero about three years ago, has 34 locations and more than 200 oncologists in Florida, making it the nation's largest independent, physician-owned medical oncology practice.
It has teamed with the Sarah Cannon Research Institute, a global cancer research firm, to bring the clinical trials to Indian River County.
Two other Vero physicians, Dr. Noor Merchant and Dr. Hugo Davila, will join Storey in enrolling patients in the trials. Merchant founded his oncology practice in Vero Beach some 30 years ago before teaming up with Florida Cancer Specialists.
Davila and Storey are newer arrivals to the area but both bring impressive credentials. Davila is a frequently published author of a wide variety of surgical and oncological papers, while Storey is a veteran of the M.D. Anderson Cancer Center's bone marrow transplantation and cellular therapy program.  
Details about the trials are sketchy so far, but the doctors will be recruiting participants from among Florida Cancer Specialists and Research Institute patients and the public.
"All trials are completely different and they have different timings and medications," Storey said. "The patients get offered the menu of trials on the specific malignancy of interest and the patient makes the informed decision if they want to participate or not.
"If we have a patient with a certain disease, we have the option of offering whatever the current guidelines suggest or we can offer our patients the option of doing something which is the standard of care plus something else that we think could work better. We want that to be accessible for the whole population. We want to be able to offer patients something better."
Clinical trials are "essential for moving new methods of preventing, diagnosing, and treating cancer from the laboratory to physicians' offices and other clinical settings and, ultimately, to improve care and quality of life for people with cancer," according to the National Cancer Institute.
Trials are "the final step in a long process that begins with research in a lab. Before any new treatment is used with people in clinical trials, researchers work for many years to understand [a new drug's] effects on cancer cells in the lab and in animals. They also try to figure out the side effects it may cause." 
By definition, there is at least some risk inherent in participating in any clinical trial, but Storey says: "We will have strict controls and watch patients very closely" to insure those risks are kept to an absolute minimum."
In most cases, cost shouldn't be a problem for patients. Trial funders pay for treatment with experimental drugs and insurance and Medicare pay as normal for treatment with FDA-approved drugs being used in new ways or combinations.
Information about upcoming clinical trials can be found at the Florida Cancer Specialists' site at https://www.flcancer.com, the Sarah Cannon site at http://sarahcannon.com, or at http://clinicaltrials.gov. People can also contact Florida Cancer Specialists directly at 3730 7th Terrace, Suite 10: 772-581-0528.