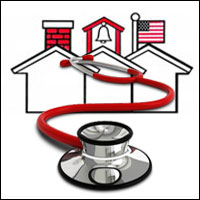 County teachers hit with huge hike in health insurance costs
STORY BY KATHLEEN SLOAN

The mid-month paychecks that went out to Indian River County public school teachers this week were considerably lighter than usual as the result of a huge increase in the amount they now are going to have to pay for their health insurance.
While the teachers union last week overwhelmingly voted to reject a contract that contained the School Board's proposed premium increase, the School Board nevertheless imposed the rate hike – as it was entitled to do – under a strange procedure in which it acts as an arbiter in disputes between the School District and the union.
The proposal that was implemented forces teachers and other employees to pay an additional $3.8 million in premiums while the School District kicks in an additional $2 million to make up a $5.8 million annual shortfall in the district's health insurance fund.
The School Board sat as a panel of judges to rule on how much teachers would have to pay for health insurance because the union and the School District could not come to an agreement after lengthy negotiations.
The teachers could have demanded a special magistrate to hear evidence, arguments and proposals, but they and the district agreed to let the School Board rule because both sides were eager to have a settlement.
Higher premiums were inevitable and union leaders felt make-up balloon payments in later months would be worse than resolving the issue now, with 10 months of the fiscal year remaining.
The district is self-insured for health insurance. Because of bad actuarial advice and mismanagement under the leadership of Assistant Superintendent of Human Resources William Fritz, the health insurance fund is millions of dollars in the hole.
Some $5.8 million in additional annual revenue is needed to bring the intake of cash into the self-insurer's fund up to $24 million a year, the cost of claims, administration fees, salaries and the health clinic, according to Aon Hewitt, the district's new actuary. The district recently fired its former actuary, Brown & Brown, blaming the health fund cash crunch on bad advice it received from the firm.
When negotiations began, the School District wanted teachers and other employees to bear the whole additional cost through much higher premiums, but District administrators agreed to contribute $1.6 million to fill the gap.
The board's decision – issued last Monday and rejected by three-quarters of teachers who voted on Friday – forces the District to pay about $400,000 more than it wanted to and has the effect of raising teacher premiums substantially. 
The school board, the district and the Indian River County Education Association agreed equity dictates what goes for the teachers will go for all employees, so the impasse ruling will impact most of the district's 1908 employees, not just teachers.