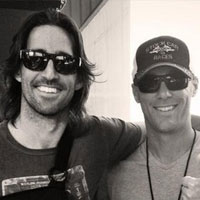 Jake's buddy giving Vero two youth baseball diamonds
STORY BY RAY MCNULTY

Homegrown country music star Jake Owen will be getting an impressive Christmas gift from his NASCAR buddy, Kevin Harvick, the 2007 Daytona 500 winner who visited him in Vero Beach last weekend.
A pair of diamonds.  Baseball diamonds.
According to a knowledgeable source, Harvick will donate in Owen's name "several hundred thousand dollars" to the Cal Ripken Sr. Foundation, which will match the contribution and build two youth-league baseball fields – including one with a synthetic turf surface – at Vero Beach's Michael Field complex.
The donation is expected to be announced this week, when Owen performs at a Charlotte, N.C.-area fundraiser for Harvick's foundation, and it may well come as news to Owen, who seems not to know about the gift.
The source, speaking on the condition of anonymity, said Owen was unaware of Harvick's donation last week.
It is possible the 2014 NASCAR Series champion told Owen about the gift this past weekend, when both played in the 71st Hale Groves Indian River Grapefruit Pro-Am golf tournament at the Vero Beach Country Club, but Owen said nothing about the baseball fields during his Friday night concert at Vero Beach High School's Performing Arts Center.
Neither he nor Harvick mentioned the project during interviews Saturday with Vero Beach 32963, even when discussing how they support each other's charitable foundations.
"Harvick might want to surprise him," the source said, "and tell him when he's in North Carolina for his event."
Owen's father, Steve, said his sons, Jake and twin brother Jarrod, played youth-league baseball at local fields, including Michael Field, which is now used by the Cal Ripken Division (ages 4 through 12) of the Indian River County Babe Ruth League.
The total cost of building the fields on the "sandlots" at Michael Field – the city-owned property is located east of U.S. 1 and north of the Elks Lodge, immediately southwest of the intersection of 12th Avenue and 28th Street – could approach $1 million, the source said.
Preliminary site-plan work on the property has already begun, the source said, adding that construction is scheduled to begin in early January. The new fields are expected to be ready for play in March.
Indian River Sports Complex Inc., the non-profit organization formed to lease and manage several local fields, has a 20-year lease for the Michael Field property, according to its president, Derek Muller, who runs the local Ripken league.
Muller said his league, which had nearly 350 kids playing during the spring season and more than 250 in the fall, has been struggling with a shortage of baseball fields for years.
"We have two fields now – Michael and Thompson – and we play two games every night," Muller said. "That means we have eight teams playing every night, and we load up on Saturdays. But we have 32 teams in the league in the spring and 24 team in the fall.
"Where do those teams practice?"
The Ripken Foundation was aware of the problem, he said, and officials notified him in April that, with the help of a "major donor," it planned to fund and oversee the construction of a synthetic-turf field at Michael Field, where it also would install concrete walkways and bleachers.
When Muller told Ripken Foundation officials he was already planning to add a grass-and-dirt field but was still raising the money to do so, they offered to include the grass field in their proposal – and at the foundation's expense.
"They said all we had to do was install the sprinkler system, build the dugouts and pay for the fencing, and they'd do the rest," Muller said. "I've already got the dugouts and sprinklers paid for.
"The only issue now is the lights," he added. "We'll have to raise the money for that."
Muller said the Ripken Foundation refused to identify the donor, who wanted to make a public announcement in December.
"All they told us," he said, "was that the donor had a connection to Vero Beach."
Owen said he and Harvick met several years ago at Kansas Speedway and quickly became friends. In fact, Harvick appeared in the music video for Owen's 2015 single, "Real Life."
Two years earlier, Owen was racing go-karts against Harvick and another NASCAR driver, Clint Bowyer, at a small track in North Carolina when he flipped his vehicle and required surgery to save his shattered fingers.
Throughout their friendship, Owen and Harvick have supported each other's foundations, both of which are focused on benefitting children. Owen's foundation has been a significant contributor to the St. Jude Children's Research Hospital in Tennessee and several youth-related charities in Indian River County.
"I'm a big fan of NASCAR and he's a big fan of country music, which works out well because we appeal to the same audience," Owen said. "Most NASCAR fans like country music, and most country music fans like NASCAR.
"You really see that when we appear at each other's benefit events."
Harvick said their schedules often make it difficult to get together, but he and Owen make it a point to see each other a few times each year – especially at fundraisers for their foundations.
"I'll go to his concerts and he'll come to a few races, but what's really special is how we try to help each other help others," Harvick said. "Jake has played at a few events for my foundation. I was finally able to come down here and support one of his events."
That synergy will continue this week, when Owen performs in North Carolina and Harvick presents him with a pair of diamonds.