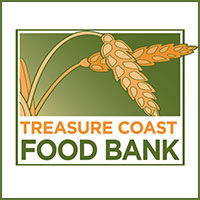 Major donors suspend support of Food Bank
STORY BY MEG LAUGHLIN

Two major contributors to the Treasure Coast Food Bank, Feeding America and the Publix Charitable Foundation, have launched their own probe of the Food Bank in the wake of a Vero Beach 32963 investigation questioning how CEO Judy Cruz had spent thousands of dollars in donations.
Sources close to Publix and Feeding America say that the Food Bank has been put on "probation" until a forensic audit is completed, which means no money and no food is currently being given to Treasure Coast Food Bank by either donor.
Meanwhile, managers and check-out clerks at area Publix stores are quick to reassure wary customers – when they asked them to donate to feed the hungry for the holidays – that none of the money is going to Treasure Coast Food Bank.
The United Way of Indian River County has also expressed concern over where money given to the Food Bank is going. But rather than proceed with its own investigation, the United Way has agreed to let Miguel Cody, Food Bank board chairman who is a longtime friend of Cruz, conduct his own inquiry and share the findings with the United Way.
After repeated calls from Vero Beach 32963, Cody's assistant said he was unavailable for comment. Cruz also did not respond, blocking calls seeking comment.
Meanwhile, Feeding America, the huge nonprofit which oversees 60,000 food banks and feeding programs across the U.S., is working with the Publix Charitable Foundation to investigate Treasure Coast Food Bank and decide what action to take, according to spokesman Nicole Krauss in the Publix corporate office.
An independent auditor, who will be selected by the Food Bank and approved by Feeding America, will complete an in depth review of TCFB numbers in order to learn where money is going, sources said. 
In early October, about a week after the first Vero Beach 32963 story came out detailing examples of how donations to the Food Bank had not been used for the agreed-upon purposes, CEO Cruz sent a memo to Food Bank administrators telling them how to respond if questioned.
Contrary to what the story said – that Cruz had used only $65,000 of a November 2015 Publix donation of $120,000 for a refrigerated truck – Cruz told her staff and Publix that most of the missing $55,000 was spent on the lease of a different truck.
But according to documents obtained by Vero Beach 32963, as well as accounts of current and former food bank employees, the lease for the truck was signed approximately five months before Publix announced the $120,000 donation for purchase of a refrigerated truck, and had nothing to do with it. 
Cruz also denied the accuracy of other examples of questionable spending reported in the investigative story, even though Vero Beach 32963 has documents to back up the allegations, along with supporting information from numerous current and former food bank employees.
Among the findings denied by Cruz, despite documents and other information contradicting her version of events:
·That employee pay was sometimes falsely reported at inflated levels to account for where money went, and that at least one volunteer was given a fake salary on paper for the same reason;
That donated goods were repeatedly shown as Food Bank purchases in order to explain how donations were used, and that employees were often asked to falsify numbers in documents to incorrectly explain where money was going.
Orchid Island residents Joe and Cindy Scherpf, who gave $50,000 to the Treasure Coast Food Bank in 2014 and 2015 as part of a matching grant from the Grand Harbor Community Outreach Program, were among the first donors to ask what had happened to their money.
To account for the spending of their $50,000, Cruz provided Grand Harbor representatives with a written breakdown that said well over $50,000 went to purchase food for Mobile Pantries, even though that food, valued at $159,396, actually had been donated by organizations including Publix and Winn Dixie, not purchased by the Food Bank.
In her recent memo to staff, Cruz denied ever saying that any of the Scherpfs' money went to fund Mobile Pantries – even though Vero Beach 32963 has a document in which Cruz makes that claim in writing.
The Vero Beach 32963 article also reported that the Food Bank repeatedly sent expired food and food contaminated with rodent droppings to area elementary schools. In her memo, Cruz blamed that problem on the school nutritionists who received the bad food, saying it was their fault because of poor communications.
But former food bank employees told Vero Beach 32963  that Cruz herself oversaw distribution of expired and tainted food to school children, and even ordered employees to erase expired dates from packages using cotton balls and fingernail polish remover.
In her memo to staff denying allegations in the story, Cruz also explained why she let Treasure Coast Food Bank's volunteer coordinator, who is not allowed to be around children because of a sex offense, be around child volunteers.  In the memo, she defined children as 8 years old and younger, and said he is only around children older than that.
In fact, the only part of the Vero Beach 32963 story that Cruz acknowledged as accurate was the finding that Treasure Coast Food Bank administrators had been wrongly listed as donors of $1,000 or more in the annual report. In her memo to staff, Cruz attributed this mistake to "human error."