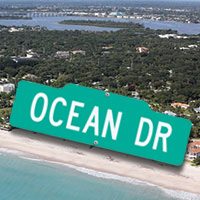 No retail shops for Ocean Drive condo
STORY BY PETE SKIBA

Vero Planning and Development Director Tim McGarry has said he would like to see more mixed-use development in the city, with retail or restaurants on the ground floor of new residential buildings, but developers of a luxury condo project across from Conn Beach say it won't include that feature.
The four-story, five-unit building is slated to go up on the spot where the Boardwalk Café and Ice Cream shop was until last May, and similar businesses might have been desirable amenities for beachgoers, but developer and longtime Vero resident Yane Zana says the economics of his project don't support mixed use.
"We are primarily oceanfront residential developers and leasing commercial space doesn't particularly interest us," says Zana, managing director of the Coastmark Companies, developer and builder of the 4091 Ocean condos, which take their name from the property's street address.
"As to the economics, just look at the lease space in the Citrus Grill building [at the Ocean Park development next to Humiston Park]. Empty commercial space is not an enticing proposition."
Coastmark bought the .67-acre property across from the Conn Beach boardwalk for $1.9 million in October, according to Zana and county property records. The purchase included two vacant buildings, one facing Ocean Drive that housed the café and ice cream shop, and a storm-damaged building facing Conn Way.
Zana plans to tear the buildings down in the next few weeks and begin construction on the condos in spring 2017 when he has permits in hand.
Coastmark has not submitted plans for the project to the city, but according to Zana's description, the ground level of the building will be used for parking and storage; above that will be two 3,000-square-foot condos side by side. Two similar single-level condos will occupy the third level while a 6,000-square-foot penthouse takes up the entire fourth floor.
Zana says all the condos, which will start at about $1.5 million, will have ocean views.  "The views are great from all floors and obviously get better with each higher floor. They will mirror what was constructed at the Chelsea Condominium two doors to the north."
Entry to the condos, which a sign at the site characterizes as "Ultra Luxe," will be from the side street while ocean views will be from balconies facing the boardwalk.
"The residences will feature Subzero and Wolf appliances, natural limestone flooring, exotic quartzite and marble counter tops, an extensive millwork package with solid core 8-foot doors throughout, inset designer cabinetry and much more," says Zana, a French native from Nice, who graduated from St. Ed's and has lived on the island for 30 years.
Other features at the development will include an elevator, a lap pool and a spa or hot tub.
The stretch of Ocean Drive where the new condos are planned is occupied exclusively by other condominium buildings, and Zana says his project will fit in well. "Most of the construction underway now in Vero Beach is of town homes," he said. "We are building multi-family buildings and we believe they are typical Vero Beach with living on one floor," so people do not have to go up and down stairs or ride in an elevator to get from one part of their home to another.
Planning Director McGarry said once he receives the plans and associated paperwork, the project could be approved by him fairly quickly.
"It depends on how complete the plans are, and if they have nothing out of the ordinary," McGarry added. "If it is just an administrative approval it could be done in less than two months."
Zana hopes to have plans in to McGarry in the next few months and is aiming for completion in spring 2018.
Zana said most Coastmark clients looking for oceanfront condos fit into one of three niches: Seasonal residents looking for luxury oceanfront homes for winter use, area residents looking to upgrade to new luxury housing or downsize from larger houses they no longer need, and retirees moving to Vero full time from other parts of the country.
The starting price of $1.5 million is on the high side for a condo in Vero, and prices for third floor units and the penthouse can be assumed to be well over that figure, but nearby oceanfront townhomes of a similar size have been selling for between $2.5 and $3 million, so the figures Zana is banking on may not be out of line.
Elsewhere in Vero, Coastmark is building multimillion-dollar homes on Reef Road adjacent to The Moorings and is the developer of North Shore Club, where homes are offered between $6 million and $7 million.