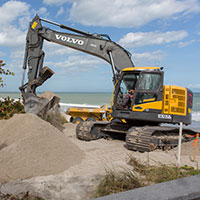 Property owners moving to repair their own beaches
STORY BY LISA ZAHNER

Damage to Indian River County's beaches from Hurricane Matthew is now estimated to be nearly $14 million, with no certainty where the cash for repairs will come from or when the work might get done – so some oceanfront property owners are taking action to repair their own beaches, using expedited county permits to bring in sand to shore up protective dunes.
Federal emergency declarations for coastal counties set off a process by which normal permitting restrictions for urgent repairs are lifted, meaning county officials could, on a case-by-case basis, approve permits not only for dune replenishment, but also for boardwalk and dock repairs.
"Staff has issued 29 permits authorizing modest placements of approved beach-compatible fill to shore up damaged dunes," said County Coastal Engineer James Gray.
Several Indian River Shores residents pulled permits and hired Henry Fischer & Sons to haul in and place their sand. Town Manager Robbie Stabe said the town worked with Fischer to minimize traffic, shoreline disruption and impact to neighbors so several projects could be completed at once.
"We issued a temporary use permit that was good for just seven days and they started the day after Thanksgiving," Stabe said. "We allowed Henry Fischer & Sons to use the town's path at the beach access at the end of Beachcomber Lane. They had to stabilize the path first with some sand and crushed coquina rock before they could get the trucks over it. So the town wound up getting that done at no cost to the taxpayers."
The City of Vero Beach cannot use taxpayer dollars to fund regularly planned beach replenishment projects, but when hurricanes threaten structures and safety, the city joins local residents in getting permits for urgent sand projects.
"We have one permit to date," Public Works Director Monte Falls said Monday. "It allowed us to place some sand at Conn Beach (approximately 600 cubic yards) to prevent further erosion and around 50 cubic yards at Jaycee Beach to restore the maintenance/ emergency access point to the beach. This work cost approximately $10,000.
"We are currently working on the second permit to allow us to place [more] sand at Conn Beach to the pre-storm limits. We estimate around 10,000 cubic yards at a cost of around $200,000. The work would have to be complete by March 1, 2017."
The boardwalk at Conn Beach was completely undermined by storm-driven waves and part of the pavement along Ocean Drive collapsed into a gap between the boardwalk and the street that is still blocked off with orange caution tape two months after the hurricane.
Gray said as of last Thursday "about 5 projects have been completed to date, using 103,410 cubic yards of sand. Notable projects are the Town of Orchid (16,500 cubic yards), Sebastian Inlet District (30,000 cubic yards) and Disney's Vero Beach Resort (4,000 cubic yards).
"It is my understanding that most of the remaining projects will be constructed in January or February 2017. Currently, there are three approved upland sand mines" where cities and residents with permits can get sand.
Property owners must purchase sand that has in the past been tested by the Florida Department of Environmental Protection and deemed compatible with the existing beach and dune sand in appearance, texture and color. And though these small-scale projects can avoid the intensive technical scrutiny sand undergoes for large-scale beach replenishment done by the county, the permit paperwork says applicants may have to remediate a botched sand project if incompatible material is used.
When Hurricane Sandy barreled up the Atlantic seaboard in 2012, county crews had just finished a costly beach sand project – much of which got washed away. Years later, after dumping thousands more cubic yards of sand back on the dunes, the county finally got a partial reimbursement. At this juncture, it's still unclear how much funding from up the government food chain will be available to recoup money spent on beach sand projects in Indian River County.