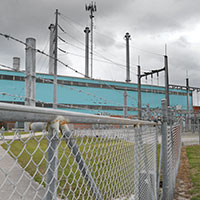 Shores could all be on FPL power by next summer
STORY BY LISA ZAHNER

With a new Vero Beach City Council in control, a previously rejected $30 million deal to sell Vero Electric customers in Indian River Shores back on track, and new legal counsel coming on board, Florida Power & Light hopes to have a contract inked with city officials within months.
If that timeline – which began with a 4-1 vote last Tuesday to pursue the partial sale – holds, the 80 percent of Shores electric customers now served by Vero could be on FPL's system in time for their summer electric bills.
Responding to the decision last week to resuscitate the sale, the Shores Council convened this Tuesday to formally re-approve town residents pitching in $3 million over three years' time via a surcharge on electric bills to make the numbers in the deal work. That participation had previously been given the go ahead, but since FPL's offer was rejected on Aug. 16 and expired on Aug. 25, Mayor Brian Barefoot said the council needed to affirm the decision.
The terms for town residents who would be taken over by FPL remain the same, Town Manager Robbie Stabe said Monday. The 20 percent of town residents already on the FPL system would not pay the temporary surcharge.
The Vero Council's vote to move ahead with the partial sale came after more than three hours of discussion, with newly elected Councilman Tony Young agreeing to vote yes only after assurances that the sale proceeds would be used in a way that would not harm the 31,000 customers who would remain on the Vero Electric system.
Young could not get on board with the firing of the city's utility attorney Robert Scheffel "Schef" Wright, however, pointing out that Wright has brought home big wins for Vero before the Florida Public Service Commission.
The PSC has repeatedly validated Vero's claims of a so-called "permanent" right to serve its entire territory, regardless of whether it has valid franchise agreements or whether those customers want a different electric service.
That matters to Vero because both the Shores and Indian River County have refused to execute new franchise agreements with Vero; the Shores' agreement expired on Nov. 6 and the county's 30-year deal is up in March.
The council went ahead and fired Wright with Mayor Laura Moss, Vice Mayor Harry Howle and newcomer Councilman Lange Sykes voting for termination in a 3-2 decision.
Sykes pushed hardest for the termination, citing a "lack of confidence" in Wright's ability to execute the $30 million sale that he, as a hired consultant, had strongly advised against.
Wright was hired to lead Vero's legal team when Florida Municipal Power Agency officials said they would not work with the city's previous attorneys, John Igoe and Rick Miller.
Wright has built a career representing municipal electric utilities and their unfettered right to serve areas assigned to them, despite charging virtually unregulated rates and siphoning money into cities' general funds.
Since Shores officials have agreed to place their appeal of an October PSC ruling in abeyance if the city makes a good faith effort to work toward the partial sale, Vero likely won't need a regulatory specialist like Wright on the bench right now.
Howle and Sykes said they want to bring on a transactional attorney to get the deal closed now, while the proverbial iron is hot.
FPL attorneys are working on a formal letter of intent to purchase the Shores' customers, which is scheduled to be brought back to the Vero City Council before Christmas.
After that is voted on and signed by Mayor Moss, both sides can hammer out the details of a purchase and sale agreement.
In that phase, FPL and city staff will address the technical issues involved in separating the transmission and distribution assets for a successful transition.
If the Shores sale moves forward as expected, FPL's Amy Brunjes said, the power company hopes it can work with the new, more amenable council to devise a way to purchase the entire electric system.
That effort has been stalled for nearly two years.
The clock the council is working against is a very real one, with time possibly being up next November when Howle must run for re-election.
If the deal to sell the Shores customers, or to sell the whole system, is less than solid at that time, it's certain that obstructionists and Indian River Neighborhood Association backers will run one or more anti-sale candidates against Howle, hoping to reclaim a three-vote City Council majority.