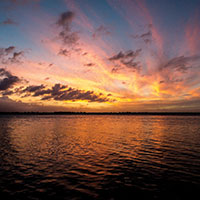 Brown tide in the lagoon creeps toward Vero
STORY BY STEVEN M. THOMAS

A new outbreak of brown tide – the nasty little phytoplankton that wreaked havoc in the lagoon several years ago – has begun in the northern lagoon and spread as far south as the Sebastian Inlet, according to St. Johns Water Management District officials.
The lagoon is noticeably brown between the Inlet and Melbourne, and last week the swimming area  in the State Park near the mouth of inlet was so murky visibility was only a few inches.
"It's creeping south," said St. Johns spokesman Ed Garland.
The outbreak started in the Banana Lagoon, up near Titusville, the same place the destructive 2011 "superbloom" began. That unprecedented over-growth of phytoplankton was a catastrophe for the lagoon, killing off 60 percent of the sea grass and decimating game fish populations. There were also large-scale bird and marine mammal die-offs, with hundreds of pelicans and exceptional numbers of bottlenose dolphins and manatees washing up on shore.
The 2011 "superbloom" was not caused by brown tide, which first appeared in the lagoon under mysterious circumstances in 2012, but by a different kind of phytoplankton. However, brown tide algae causes the same type of damage as the superbloom bug, consuming oxygen, raising chlorophyll levels and clouding the water, cutting off light seagrass needs to live and smothering marine life.
Scientists at St. Johns first noticed the current bloom in mid-January and have been monitoring it since then.
"It's too early to tell if this could cause the same kind of damage we saw in prior blooms," Garland said. "If it persists, it would be a serious concern."
Brown tides result from blooms of a microscopic alga called Aureoumbra lagunensis. The organism was discovered by researchers at the University of Texas Marine Science Institute, near where a brown tide bloom persisted from 1990 to 1997, causing massive and prolonged ecological damage along the Gulf Coast. According to the Texas Parks and Wildlife website, that outbreak was "the longest continual algal bloom in history."
The site says that individual brown tide algal cells are "only 4-7 microns in diameter, which means that over 200 brown tide cells sitting side by side would stretch across the period at the end of this sentence. When concentrations of this alga reach 1-2 million cells per milliliter of water, the water appears brown, taking on the color of the alga and thus the term 'brown tide.'"
Brown tide can withstand a wide range of salinities and temperatures, but it does best in warm water and Dr. Charles Jacoby, a supervising environmental scientist with St. Johns, says it is possible a hard cold snap could slow or stop the spread of the tide.
"So far, water temperatures haven't been sufficiently cold to help knock the bloom down," Jacoby said. "In the bigger picture, it took decades for water quality to get where it is; it's going to take time and effort to generate long-term improvements."
This new threat comes at a time when Bob Solari, Peter O'Bryan and other Indian River County Commissioners have taken their eye off the ball when it comes to fixing problems in the lagoon.
Despite talking a good game about their commitment to the health of the waterway that is the economic and aesthetic center piece of the region, generating $3.7 billion in annual economic activity, the Commission has done little to reduce pollution or improve water quality in recent years.
Commissioners have inexplicably refused to participate in the Indian River Lagoon Council, a regional body formed to clean up and protect the waterway that all other lagoon counties and most Indian River County cities have joined. Thereby, they passed up access to millions in state and federal funding for water-quality improvement projects.
When challenged on the failure of leadership, O'Bryan defends himself by citing the existence of small-scale water improvement projects that were begun and in most case completed years ago, most before the ecological disaster in 2011 that mobilized other area government to undertake large new water quality improvement projects.