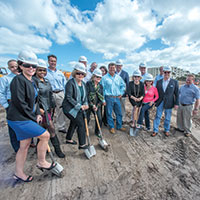 Construction set to start at the Surf Club
STORY BY SAMANTHA ROHLFING BAITA
Photo: The ground breaking ceremony at the Surf Club.

Foundation work is about to begin at Surf Club – the newest and what could be one of the last multi-family residential projects along Vero Beach's virtually built-out oceanfront.
Surf Club will consist of 11 British West Indies-style luxury townhomes spread out along approximately 400 feet of ocean frontage on a prime 2.57-acre parcel at 4700 N. A1A, for many years the location of the old Surf Club Hotel.
"We chose the name partly as an homage to a piece of Vero Beach history and partly because it is a great name," said Premier Estate Properties broker associate and project co-developer Clark French, who, with his partner Cindy O'Dare and fellow Premier broker associate Kay Brown, is handling sales and marketing for the project.
A sizable group was on hand for the official groundbreaking, which took place on the bright blue and blustery afternoon of Feb. 5, as a compactor put finishing touches on the dirt.
For weeks, a parade of dump trucks had hauled in some 14,000 cubic yards of fill, while dozers smoothed and leveled it, raising the level of the lot and ultimately bringing the first floor elevation of the planned homes to 16.7 feet above sea level.  A retaining wall to contain the fill has been built along A1A.
In oceanside projects such as this, said co-developer and general contractor Vic Lombardi, owner of Water's Edge Estates, LLC, a surprising amount of the construction cost is "underground." Here, 350 steel-reinforced concrete auger pilings will be sunk to 35 feet below grade, 20 feet below sea level, to ensure a strong, stable foundation.
The pilings will be tied together with a massive concrete beam. All told, some 6,000-7,000 cubic yards of concrete will be poured.
The West Indies oceanfront townhouse concept has a proven track record in Vero.  Surf Club is a sister project of East End, the award-winning five-unit townhouse development built on the beach by the same team in 2014, at the "east end" of Gayfeather  Lane.
That project was the first multi-family development built on the ocean in Vero Beach after the real estate downturn, entering the market at the perfect time and selling out before the first wall was raised. Surf Club has taken the concept and expanded on it and seems all but certain to enjoy the same success: With five units already sold before the foundation has been poured, the project is slated for completion in about a year.
"Given the demand we saw at East End, it made sense for us to continue with the same type product," said Lombardi, "We have reassembled the same professional team. Schulke, Bittle & Stoddard will be the project engineer and Gregory Anderson will be the architect, same as at East End."
Although the property size and zoning would allow for 30 or more condo units, "We purposefully down-zoned," French said. "We wanted to be light on the land. Our concern was the owner's lifestyle, the aesthetics."
The new luxury homes will not be condos, Lombardi hastened to point out: each is individually platted and individually owned. The HOA will own the common areas, and will be responsible for landscaping, building insurance and maintenance. 
Exterior walls will employ the same appealing combo of Hardi-Plank siding and stucco over concrete block used at East End, with a soft three-color pallet reflective of the British West Indies style.
Each unit has 3,200 square feet under air, 4,000 under roof. Each has a private detached two-car garage, individual courtyard and pool.  All 11 units will accommodate any of three available floor plans. Top-quality standard finishes include hardwood and stone flooring, detailed millwork, superior cabinetry and fixtures and gourmet-level appliances. Amenities such as elevators and fireplaces are available as optional upgrades.
The homes are grouped in four strategically staggered buildings – three three-unit structures and one two-unit building, positioned along the ocean in a long curve that keeps sightlines open for every residence. Each unit's plentiful windows, first floor patio and second floor balcony will offer unbeatable ocean views from the moment one enters.
With 12-foot ceilings, 8-foot French doors and glass transoms, the unique design also imparts to each unit the feeling of a single-family home.  
Of course, the project's A1A location near the heart of Vero's village by the sea contributes even more desirability to the charming, high-end, amenity-rich townhomes: New residents – who French says so far range in age from 40s to 60s – will be within walking distance of restaurants, boutiques, high-end shopping, festivals and parks, with Riverside Theatre and The Vero Beach Museum of Art close by as well.
At the current pricing, $2.5 million to $3 million, with the housing market continuing to gain steam, Lombardi believes the remaining six units will likely be snapped up before construction is complete. He and French both say they could have sold many more units at East End if there had been room to build more.
The developers bought the 2.56-acre property in March for $7.95 million and quickly knocked down the aging hotel that occupied the site.  Partners on the project include Lombardi, French and businesswoman and developer Katherine McConvey, who developed the stunning modernist home on the ocean half a mile south of Surf Club that is now being offered for $35 million. Construction financing is being provided by Harbor Community Bank.