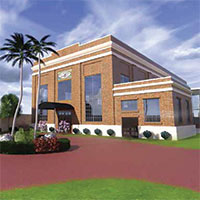 High bidder on diesel plant has detailed plan for a craft distillery
STORY BY MICHELLE GENZ

Five years ago, Guy D'Amico, a lifelong collector of off-beat brands of spirits, was on his honeymoon in Tahiti when he and his wife took a sip of rum and noticed a vanilla bean in the bottle.
"It went from 'This is good,' to 'This is the good life,' to 'Why can't we do this?'" he recalls. "Why shouldn't we just make our own liquor in Florida with home-grown ingredients?"
His dream is now part of a national trend: craft distillers making high-end, small batch spirits.
Today, he has channeled that dream into the Treasure Coast Distilling Company, hoping to not only manufacture rum with distinctly local ingredients, but to create a tourist destination. Key to his vision: the long-defunct, 90-year-old diesel-generated power plant in downtown Vero Beach.
D'Amico, who oversees a petroleum distribution site in South Florida, is now the highest bidder of three competing for the city-owned plant. City Manager Jim O'Connor, one of four review committee members, stresses the amount of the bid is not the deciding factor. "My questions are about proposed use and sustainability," he says. "We don't want to go through this (again) three years down the road."
D'Amico says he has the cash to both purchase the building and pull off the project.
A graduate of University of Central Florida in political science and criminal justice, D'Amico put himself through school working as a bartender at the since-closed Club Med there. He remembers seeing the diesel plant on visits to Vero when he was a boy growing up in Port St. Lucie.
D'Amico lives in Coral Springs now, with his wife Lisa and two boys under the age of 3, but the family is building a house on the north barrier island. It was on trips back and forth between their current home and future dwelling that the old building caught his eye again.
"We'd driven by a billion times," he says. "We thought, that would be the perfect building."
In October 2013, he contacted the city of Vero Beach and was told the plant was locked up in a lease. But he submitted his offer anyway, and has doggedly followed up with annual letters since then. "We've stayed steadfast," he says.
In those three years, D'Amico has seen the ranks of craft distillers swell to 700 nationwide – up from a few dozen a decade ago – and has watched the budding industry slowly succeed at liberalizing Prohibition-era laws heavily taxing products and restricting sales.
Craft distillers pay five times more federal excise tax than brewers do for beer, and 16 times more than small wineries.
In Florida, where only about 20 craft distillers are making liquor, there are additional burdensome laws, with a three-tiered system separating the manufacture, distribution and retail sale of spirits. Despite a powerful lobbying effort by distributors, who want to maintain the status quo, Florida's spirits artisans are finally making inroads: A new law, passed last year, allows them to sell four bottles per person, per year.
"Florida's slowly been dragging its feet into the 21st century," says D'Amico. "I think it's still a little ridiculous. What's ridiculous is having distributors saying, 'Oh my God, you're going to put us out of business.'"
In contrast to craft distilleries, the state is enjoying an explosion of breweries, the fifth highest growth rate in the nation. The number of breweries in Florida is expected to top 200 this year. Nationwide, there are 3,500.
In tourism terms, that gives distilleries at least one advantage – novelty.
D'Amico, like most craft distillers, aims to make his brand highly localized, using Indian River citrus and another more unusual flavoring agent that is a signature of Vero Beach – he doesn't want to reveal it for fear of being copied.
The spirits would be distilled in huge copper pot stills imported from Germany, which he would show off in public tours and in his tasting room. There, samples would be given away to visitors seated at a long communal tables. Bottles of his product would be sold in a small retail gift shop. 
"A lot of distilleries don't conduct tours because they're in places like industrial parks," he points out. "The change of law that lets you give samples and sell the product allows the building to be a tourist destination. So it's more important now than it ever was that you be in something that has a story and is worth visiting, as opposed to an old airplane hangar that nobody cares about."
He cites two distilleries in Florida that have been astonishingly successful. The first, Drum Circle Distilling of Sarasota, is the maker of Siesta Key Rum, which last year earned a score of 94 from Wine Enthusiast for its Distiller's Reserve. It is located in small space in an out-of-the-way industrial area – they grow a little sugar cane by the parking lot.
Since the law changed to allow the limited sale of liquor, the distillery has been flooded with tourists. Its five tours a week are booked solid, says owner Troy Roberts. At 60 people per tour, that would add up to 15,000 a year. An equal number of people visit the (company's) Siesta Key tasting room. Opening in a more populated area "is something we've always considered," Roberts says. "But we're primarily a wholesale distributor. What you're talking about for Vero is more of a tourist distillery, like St. Augustine."
He means St. Augustine Distillery – every chamber of commerce's dream. Opened just over a year ago in an old ice plant outside of town, it already averages a staggering 9,000 visitors a month. Seventy percent of those arrive by trolley, a mode of tourist transport Vero hasn't developed yet.
Part of the draw there is that there's also a bar, with specialty cocktails featuring specialty ice – a winning concept in an old ice plant. To do that under Florida's restrictive liquor laws, though, the distillery's founders had to form a split off so that the other investors could open a separately owned bar and legally sell drinks in the same building.
Meanwhile, the distillery operation is also thriving.  Its product now is distributed in 750 outlets statewide including ABC and Publix liquor stores.
Yet as D'Amico says, "they're making smaller batches and gearing themselves toward tourism" instead of large-scale distribution.
D'Amico too expects to draw tourists, but ultimately he would like to see his product sold nationwide, "with made in Vero Beach, Florida, right on the label," he adds enthusiastically.
At this point, D'Amico hasn't planned to include a restaurant or bar in his design, though he does hope to develop the property around the building into retail shops and dining.
D'Amico has another thing in common with St. Augustine: He is hiring the same consultant, David Pickerell, a former vice president for operations with Maker's Mark bourbon. He also lists as a consultant Nicole Austin, an environmental engineer and self-taught distiller who won a national bronze medal for her King's County Bourbon.
Like D'Amico, the other two bidders on the plant are from South Florida. Sculptor Ross Power, who wants to use it as a gallery space and film set, moved to Vero from Miami; Michael Rechter, a Fort Lauderdale pain clinic owner turned developer who has a home here now, wants to put a craft brewery in the plant.