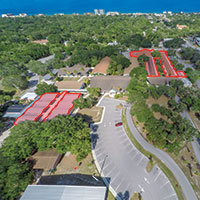 Major renovation of Beachland set to get underway next year
STORY BY DEBBIE CARSON
Photo: Areas of Beachland Elementary to be replaced are highlighted in red.

The Indian River County School Board appeared ready this week to move ahead with a staff recommendation that will enable the long-overdue major renovation of Beachland Elementary to finally get fully underway a year from this summer.
For years, parents have begged the School Board to fix the many problems that ail Beachland, including leaky, moldy buildings with rotted beams and wet carpets that parents say have made their children sick.
Now, Assistant Superintendent of Finance Carter Morrison has found a way to move up the timetable for Beachland renovations by restructuring some of the School District's debt.
District staff explained that by restructuring debt, the School Board could proceed right away not just with building a new multipurpose cafeteria at Beachland, but also a two-story classroom wing that would replace temporary classroom pods located elsewhere on campus.
As part of the project, the School District would demolish the buildings closest to the corner of Beachland Boulevard and Mockingbird Drive which currently house the cafeteria and an administrative wing. The buildings, which are nearly 60 years old, once housed classrooms, but kids were moved out to protect them from dilapidated conditions.
"I'm really excited," said School Board member Claudia Jimenez. "It's time we tackled this Beachland Elementary project."
"We have truly gotten somewhere," said Beachland Elementary parent Tiffany Justice, who has three children at the school and a fourth who will attend in the fall. Justice is the Beachland PTA liaison with the School Board and has been among those most upset by what many deem unhealthy and hazardous conditions at the island's only public elementary school.
Currently, the School District has approximately $4.3 million set aside for a "cafetorium" project in the five-year Capital Outlay Plan. Those funds will become available this fiscal year, 2016-17, which begins in October.
However, the consulting firm overseeing the cafeteria project discussed with District staff the potential for saving money on the project if the District were to move up its timeline for making further changes to the elementary school.
Because construction crews would already be on site, staff told the School Board that if they moved the two-story classroom wing ahead of schedule, construction at Beachland could be limited to one school year rather than affecting multiple school years.
As it turns out, moving up the project would solve another problem that would have been created if the School District had only moved forward with the new "cafetorium" on its own.
In order to accommodate new appliances and an auditorium, and to handle the school's student population, staff explained, the current cafeteria footprint was going to have to expand. That expansion would eat into a nearby building.
Along with a new multi-purpose cafeteria and a two-story classroom wing, plans call for cleaning all air ducts and for all Beachland buildings to get new air handlers. More walkway covers will be installed and new class spaces will get new furniture. The cafeteria, too, will get new tables.
"It's like we're starting all over," Facilities Director Scott Sanders told the Board during a recent discussion about the project.