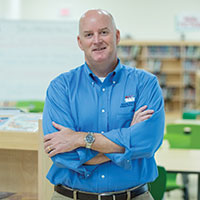 Plea by charter schools for more funds nixed by Rendell
STORY BY SAMANTHA ROHLFING BAITA
Photo: School Superintendent Mark Rendell

While School Superintendent Mark Rendell is credited with greatly improving relations between the School District and the county's five charter schools in his first year in the top job, he says the charters are not going to get the additional funds they are seeking for capital improvements.
"We don't have any additional money to share, as our capital dollars are already needed to cover the repairs and renovations to our facilities," Rendell told Vero Beach 32963.
The five charter schools say they are being starved of funds for capital improvements that they believe should be coming from the school district, with the shortfall affecting everything from class size to teacher retention as they juggle budgets to find money for campus repairs and improvements.
"We continue to work with the charter schools on this matter," said Rendell.  But as of last week, the charter schools planned to go before the Circuit Court or to Tallahassee seeking relief from what they consider the District's inequitable distribution of funds.
"We remain hopeful we can come to an agreement before that happens," said Indian River Charter High School Board chairman Gene Waddell.
While Florida's charter schools are part of the public school system – and state statutes include detailed guidelines covering how school districts must treat the charters – Rendell says cutbacks in the state's capital funding of charter schools is at the heart of the current problem.
"The amount of capital funding they receive directly from the state was robust for them a few years ago, but has recently declined, and I believe that prompted them to look for additional funding," Rendell said. "We do already share some additional funding with them from a discretionary property tax millage.  They are currently requesting a larger share of that, and this is the matter being contested right now.
"It should be noted that we are one of only two school districts (in the state), out of 67, that share any discretionary millage with charter schools," he added. In 2009-10, "the School Board shared $2 million with charters – one of only a few in the state that shared capital funds with charters.
"The state sets aside a certain amount of money for Charter School Capital Funds.  If I were them, I would be working with the state to try and increase the amount of capital funds they receive directly from the state, as that is where the decline has been."
Apart from the financial issues, the charters generally give Rendell high marks for his outreach to them since taking over as superintendent last May.
"One of the first things I heard when I arrived was that there was a separation between the traditional schools and the charter schools," he says. "My approach has been to include every one of our schools in what we do – all under the same tent. I moved to immediately to eliminate any divisions in support or interactions.
"For example, I found that we had two separate email address groups for principals – one labeled 'All Principals' and one labeled 'All Principals – Non Charter.' I eliminated the non-charter group. If anyone at the district office was sending anything to principals, it would be sent to all principals. I send out my memo every Monday morning to all principals."
Rendell also appointed assistant superintendent of technology and accountability Bruce Green as a charter school liaison.
"I believe this gave the position more validity, as Bruce is a member of the Superintendent's Leadership Council," Rendell says. "Bruce has done a great job building a positive relationship with the charters. He meets with them on a regular basis and is able to respond to any of their concerns and share information with all relevant parties."
Dr. Martha McAdams, director (principal) of Sebastian Charter Junior High, commended Rendell on his appointment of Green.  "I have known Bruce for many years, and I think he will work well with the charter school community."
North County Charter Elementary business/finance manager Ken Miller says, "This is the first time in my 18 years with North County Charter that I can recall what feels like a genuine attempt to work with and to communicate with the charter schools. I sincerely hope this is the beginning of a much improved working relationship."
Rendell says the change in charter school liaison "has paid big dividends, really solidified two-way communication. 
"At the monthly principal meetings, charter school principals participate in the training that we offer and share best practices with their colleagues.
"We recently launched a new district-wide Professional Development Program for teachers, and charter schools were given the opportunity to participate."