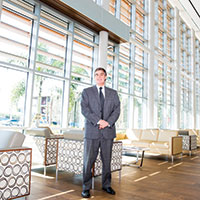 Scully-Welsh director focused on 'top quality teams'
STORY BY TOM LLOYD

Dr. James Grichnik, an international expert on the treatment of melanoma, says he plans to focus on "building top quality teams" to tackle other forms of cancer in Vero before developing a program here in his own specialty.
In his first interview since becoming director of the newly opened Scully-Welsh Cancer Center, Grichnik said he hopes to eventually recruit specialists to tackle the most common cancers found in Vero, including lung and bronchial cancer, colorectal cancer, breast and pancreatic cancers, prostate cancer, liver cancer, leukemia and non-Hodgkins lymphomas, and ovarian and esophageal cancers.
"As word begins to spread that Scully-Welsh has incredible talent, more and more talented people will want to come here to work," he said. But it won't happen overnight, he added.
"It's not like opening a department store," Grichnik said with wry smile. "It's all about building top quality teams."
"Basically we are in a growth phase," he said. "Right now we have our radiation oncology program being quite active, seeing something on the order of 40 to 50 patients a day. Our infusion services are also active with something on the order of 10 infusions a day.
"We already have a great, solid thoracic and lung cancer program, and I really think the GI (gastro-intestinal) cancer program is also coming along quite nicely. Our nurse navigators are already following about 150 patients."
Grichnik, who was head of the melanoma program at the University of Miami before agreeing to lead Scully-Welsh, said he was well aware that Vero isn't going to compete with the major cancer centers in Tampa, Miami, New York or Boston.
"But the reality is that today, certain aspects of oncological care do not require you to be in New York City," he said.
The affable Grichnik, moreover, doesn't seem to be looking to compete with anyone.  The word that frequently crops into his remarks is "synergy."
"As far as medical oncologists, right now the ones that we work with are associated with – but not employed by – the cancer center, and we're currently in process of talking with both the groups here in Vero (Florida Cancer Specialists with Dr. Raul Storey and Dr. Noor Merchant and Dr. Michaela Scott and Associates, a practice that includes Dr. Frederick Weeks and Dr. William McGarry).
"We'd really love to have them affiliated with and involved as much as possible with the center (as a way to)bring quality local physicians into the program," he said.
Grichnik also pointed out that as a Duke Medicine affiliate, Scully-Welsh "will have access to the clinical oncology trials going on there and it's our intention to bring some of those trials here.
"I know those guys up at Duke," Grichnik says, "I worked with them for 17 years."
In time, Grichnik hopes to turn more of his attention back to his long-time specialty, and build a strong melanoma program at Scully-Welsh.
"But I have been delaying on that because in my experience, when I start that kind of program, they tend to explode" in popularity, Grichnik said.  "I don't want to lose track that we're providing cancer care across the spectrum."