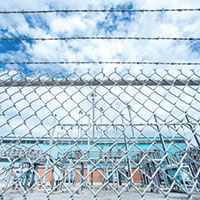 Vero police to provide alerts in event of utility problems
STORY BY LISA ZAHNER

It's been a rocky few weeks for Vero Beach Utilities, with two major power outages in the past week following hard on the heels of a two-hour outage with 15,000 people in the dark, a water outage, and three days of system-wide boil water notices.
As city officials work on ways to better get information out to the public, the Vero Beach Police Department is stepping in to help.
Police Chief David Currey and his staff post various alerts and press releases on social media via Facebook and Twitter, and have built large numbers of followers – many of them city utility customers.
Since power and water outages concern public safety, "the police department is using its networks that are already in place, as well as its email lists," City Manager Jim O'Connor said Monday, when a downed line on Indian River Boulevard knocked out power to neighborhoods from Royal Palm Pointe northward to and including Indian River Medical Center.
Residents who are already signed up on a neighborhood watch list are already in the pipeline to receive police alerts on utility matters. Utility customers who are on Facebook can follow the Vero Beach Police Department page, and those on Twitter can follow the official Vero Beach Police Department account.
O'Connor and water and sewer director Rob Bolton have been tasked by the City Council with finding a solution to the lack of communication that resulted in mass confusion during the Jan. 30 outage of roughly half Vero electric's customers.
Though updates were communicated to local print and broadcast media, and key school and hospital executives were notified directly in real time, city officials realize that, with the technology available, utility customers expect more direct communication during outages.
In the absence of any automated city communication system to reach customers about the Jan. 30 boil water notice, Vero enlisted the help of the county and messages were sent via the county system whereby residents register for various alerts.
This got the precautionary boil water notice out to more people, but the  county alert resulted in much confusion because Indian River County Utilities water customers, more than 10,000 of whom get their power from Vero electric, were confused about whether or not they had to boil their water.
They did not, since they were on the county water system, but Bolton said "most of the calls we received were from people who were not on our water system. They were county customers."
"I have been in contact with the Indian River County Emergency Operations Center (EOC) and have provided the EOC with maps of our service areas," O'Connor said. He added that Vero is looking into working with the same company the county uses for its public safety and weather alerts via robocall, text and email.
O'Connor has the authority to implement low-cost solutions, but anything requiring a major capital expenditure would need to come back to the City Council for approval.
Once the system is in place, utility customers would need to register their phone number or email address (or both) with the city in order to receive the alerts. O'Connor reminded city officials that anything communicated via social media or an alert system must be retained according to Florida's public records laws, and that City Council members would not be permitted to comment back and forth or engage in a conversation via social media on a city post, as doing so might open them to accusations of a Sunshine Law violation.