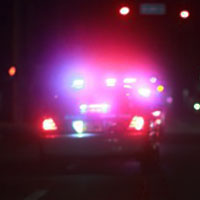 Woman indicted in hit-and-run death
STORY BY RAY MCNULTY

When word came last week that the woman who killed Orchid Island winter resident Peter Meyer 13 months ago in a hit-and-run incident had been indicted, Pat Walsh said he "breathed a sigh of relief."
Apparently, he wasn't alone.
"There was always a lingering concern among his friends here and former colleagues at Merrill," said Walsh, Meyer's close friend, Orchid Island neighbor and former work colleague.
"The indictment against the woman makes it clear this was strictly her fault," he said. "They found his eyeglasses in the crosswalk, so he wasn't even jaywalking.  So, yeah, that was a big relief for us."
The accident happened in Savannah, Ga., and it was a Chatham County grand jury that indicted Darcia Wilson Hymon, 50, of Jacksonville for "homicide by vehicle" last week, less than three months after she was arrested by Savannah police, who received an anonymous tip called in through the Crimestoppers hotline.
Police charged Hymon, who used the name Wilson when she was arrested, with one felony count of leaving the scene of an accident involving injury or death. She was booked into the Chatham County Jail.
After examining the evidence, prosecutors opted to take the case to a grand jury and seek an indictment for vehicular homicide.
If convicted, Hymon faces a prison term of three to 15 years. She could go to trial as early as this spring, if she contests the charges and there is no plea deal.
Meyer's daughter, Deb Cohen, could not be reached for comment.
Walsh, who first met Meyer when they were in the Merrill-Lynch training program in 1976 and last year organized a campaign that raised $117,000 in reward money, said Meyer's friends and neighbors continue to monitor the progress of the case.
"I get emails all the time," Walsh said. "People want to know what's going on with the case and I try to keep them in the loop."
Walsh said Meyer, a West Point graduate who won a Bronze Star serving in Vietnam, was his "best friend in Vero Beach."
No one has come forward to claim the six-figure reward, offered for information leading to the arrest and conviction of the person who killed Meyer, and the money remains in an escrow account.
If the reward remains unclaimed in June, Walsh said the money will be returned to the donors – unless they decide to use it to honor Meyer in some other way. Thirteen of the 44 contributors were Meyer's Orchid Island neighbors or friends in the Vero Beach area.
Meyer, 72, was driving from his home in Quechee, Vt., to his winter residence at the Orchid Island Golf & Beach Club on Jan. 4, 2015, when he stopped for the night in Savannah.
Traveling with his beloved Yorkshire terrier, Chili, Meyer checked into the midtown Residence Inn. It was already dark when he walked across Abercorn Street to have dinner at the Bonefish Grill, near the Twelve Oaks Shopping Center.
Meyer was struck by an SUV as he waited in the crosswalk to return to his hotel. The impact knocked his body into some bushes, where it was discovered more than an hour later. Police told his family members that he was killed instantly.
The case went unsolved for 10 months – until the Savannah-Chatham Metro Police Department's Crimestoppers program received a call from an anonymous tipster who identified Hymon as the hit-and-run driver who killed Meyer.
Police investigators followed up the call by driving to Jacksonville on Nov. 5 to interview Hymon at her home. Four days later, they questioned her again, this time in Savannah, where they say she "confessed to the fatal accident."
Cohen and her sister, Sue Ross, were in the Savannah courtroom in December when the lead investigator working the case gave details of the incident during a probable-cause hearing.
Cohen said last month that she was absolutely convinced that Hymon knew she had hit someone and fled the area.