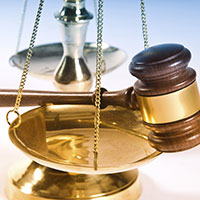 Woman who claimed assault by police officer weighs appeal
STORY BY RAY MCNULTY

A 62-year-old woman who lost a lawsuit against a former Vero Beach police officer she accused of using excessive force while arresting her outside her Sea Oaks home must decide in the next 2 ½  weeks whether to take her case to the U.S. 11th Circuit Court of Appeal in Atlanta.
"At this point, we're considering our appeal options," Allison Landsman said Monday, after consulting with her Stuart-based attorney, Guy Rubin. "We have until March 2 to file. I want to go forward and I believe we have grounds, but I'm not sure if I can afford to."
After a federal court jury in Fort Pierce rendered a verdict in favor of former police officer Fletcher McClellan in November, Landsman sought a new trial, basing her motion on a technical glitch that prevented jurors from reviewing the police's dash-cam video, which Rubin called the "most key and critical piece of evidence."
U.S. District Court Judge Donald Graham, who presided over the trial, denied the motion last week.
In issuing his 15-page ruling, Graham wrote that Landsman's attorneys were responsible for the glitch – they failed to provide the proper equipment necessary to show the video in the format available – and that jurors already had repeatedly viewed the video during the questioning of witnesses and closing arguments.
"The court has no doubt that the jury was provided ample opportunity to during the trial to view and consider the contents of the dash-cam video," Graham wrote, adding that Landsman's attorneys failed to show "that the inability of the jury to view the video during deliberations resulted in a reasonable possibility of prejudice or substantial injustice."
It was during its deliberations on Nov. 14 that the jury asked to take another look at the police's dash-cam video of the 2010 stop that led to Landsman's arrest. However, the clerk was unable to provide a version formatted to fit the courtroom's video player.
Jurors waited nearly 30 minutes as Landsman's legal team scrambled unsuccessfully to find a usable copy of the video – apparently, the laptop already had been removed from the courthouse – then decided to continue its deliberations without seeing it again.
Shortly afterward, the jury rejected Landsman's claim and handed down a verdict in favor of McClellan, now a corporal with the Indian River County Sheriff's Office.
"The video was entered into evidence and the jurors wanted to see it again," Rubin said after the verdict. "It's very likely the video would've had an impact on their deliberations and, ultimately, their decision."
However, Graham ruled Landsman's legal team "invited any complained-of error by failing to have the same technology used during the trial."
Rubin said the defense team had a disk that probably would've played in the jury room, "but they refused to give it to the clerk."
Robert Bonner, the Longwood-based attorney who represented McClellan and the city of Vero Beach, said it wasn't his job to help the woman suing his client.
"As lawyers, we have a responsibility to make sure we have our evidence in the proper format, and they didn't," Bonner said. "It's not the court's responsibility. It's the lawyer's responsibility.
"As I said before," he added, "this was a self-inflicted wound."
Bonner, who predicted in November that Graham wouldn't grant a new trial, said the video "didn't show anything, anyway – just her leaving the traffic stop," and that jurors already had seen it numerous times during the trial.
The jury deliberated for only 90 minutes before deciding to not compensate Landsman for injuries she sustained – they included a broken nose, torn rotator cuff and bleeding in her brain – or reimburse her for expenses she incurred as a result of the incident.
The jury's decision ended a five-day trial that left Landsman, who was seeking $5 million in compensatory damages and up to $10 million in punitive damages, in a financial bind. She said she had poured "everything I've got" into the case.
Landsman said she has gone through her savings, borrowed money and allowed Rubin to place liens on her homes – one at Sea Oaks, the other at Grand Harbor – to cover his legal fees and expenses, which she estimated at nearly $300,000.
"I'm broke, and I'm going to be homeless at the end of the month," Landsman said, adding that she receives $200 per month in food stamps. "I can't even get work because of this. I've applied for jobs, but this thing shows up on every background check.
"I've got $33 left in my Northern Trust account."
Asked how she would pay legal fees for an appeal, she replied: "I guess I can try and win Powerball."
Though Graham's ruling allows McClellan to seek reimbursement for the costs and fees associated with his defense, Bonner said it wouldn't be worth the effort, given Landsman's dismal financial situation. Besides, he said, his client wants to put the five-year legal battle behind him.
"We're hoping this is the end of it," Bonner said, "so everyone can just move on."
McClellan left the Vero Beach Police Department four years ago to join the Sheriff's Office, where he now works with road-patrol deputies as a field training officer.