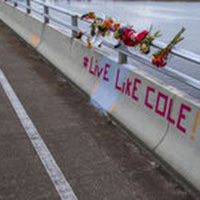 Plea deal now seen possible in bike fatality
STORY BY RAY MCNULTY

Sixteen months after a young Vero Beach bicyclist was struck by a car and killed on the 17th Street Bridge, the case against the woman charged with DUI manslaughter isn't close to going to trial – and it might not.
Both a state prosecutor and the attorney for Jamie Williams, now 22, said a plea deal is a possibility.
"This was a tragedy that impacted two young lives and their families," said Alan Landman, Williams' Melbourne-based attorney. "We're trying to find an equally fair, just and comfortable compromise to resolve the case."
Assistant State Attorney Steve Wilson, who has handled the case since lead prosecutor Daryl Isenhower was appointed a St. Lucie County Judge in December, said the possibility of a plea deal is "always on our minds" but there's "nothing definite" on the table.
"I wouldn't say any firm offer has been extended," Wilson said.
Such an offer could some after the defense's accident-reconstruction expert is deposed by attorneys from both sides, Landman said. The deposition was scheduled for last week, but it was postponed until State Attorney Bruce Colton assigns a new lead prosecutor to the case.
"We'll get somebody on it," said Colton's chief assistant, Tom Bakkedahl, who added that the job would go to someone already in the State Attorney's Office. "I want to see how this deposition turns out."
According to police, Williams was driving while under the influence on the bridge at about 1:45 a.m. on Sept. 27, 2014, when her 2008 Honda Accord veered into the bike lane and struck Nicholas "Cole" Coppola, knocking him off his bicycle, over the guard rail and into the Indian River Lagoon below.
An autopsy determined that Coppola, 16, died of multiple injuries, including broken ribs and brain trauma.
Police say Williams, who stopped immediately and called 911, submitted to a breathalyzer test, which revealed she had a blood-alcohol content of .12 – above the legal limit of .08.
She was charged with DUI manslaughter, misdemeanor counts of possession of less than 20 grams of marijuana and possession of drug paraphernalia, and a traffic violation for failing to stay in a single lane.
Witnesses later told police they saw Williams, who worked as a bartender and waitress at the Citrus Grillhouse, drink a glass of wine and a shot of tequila at Trattorio Dario, an Italian restaurant on Ocean Drive.
They said she arrived at the restaurant's bar at about 12:20 a.m., after her shift at the Citrus Grillhouse, and stayed until 1:30 a.m. They said she did not appear to be intoxicated.
Landman said his position remains the same.
"That she did not cause the accident," Landman said. "It's our contention that she was driving lawfully in her lane of traffic and the boy rode into her."
Landman said the accident-reconstruction expert will offer testimony supporting such a contention, which includes the likelihood Coppola, nearing the crest of the bridge, became so leg-weary pedaling up a long, steep, exhausting incline that he unintentionally wobbled and veered into the traffic lane.
Williams told police at the scene that she saw the bicyclists riding on the bridge – Coppola was trailed by two teen friends, Hunter Kraaz and Bradley Moll – and that the boy swerved into her lane.
She apparently said the same to Trattoria Dario bartender Austin Fletcher, who told police he arrived at the scene minutes after the crash and that Williams told him the bicyclist came out of nowhere.
Even the statements given by Kraaz, who was riding about 30 feet behind Coppola, and Moll, who was walking his bike 250 feet from the crash, indicate Williams believed the bicyclist veered into her lane.
Kraaz told police Williams got out of her car "and was like, 'Why weren't you guys in the bike lane?'"
Moll told police he dropped his bike, ran to the scene and yelled at Williams, who responded by saying Coppola was in the road.
Both teens initially said Williams' car "swerved" into the bike lane and struck Coppola. However, they were deposed separately – one in July, one in September – and, without identifying them by name, Landman said the boy closest to the crash was unable to confirm where the collision occurred.
"He didn't remember much," Landman said, referring to Kraaz. "He had his eyes down and couldn't confirm if the contact occurred on the road or in the bike lane."
Landman said the "other boy" testified that the crash occurred in the bike lane.
The case is scheduled to go back to court Feb. 9, when both sides will present a status report to Circuit Judge Cynthia Cox.
In the meantime, Williams is living with her mother and stepfather in Rockledge, and working full-time in a Brevard County restaurant. She was released from the Indian River County Jail on Oct. 1, after posting $100,000 bail.
"She's doing OK, but she has some rough days," Landman said. "She lives with the realization that she took someone's life, even though she didn't cause the accident. That's very difficult, especially for someone so young."
If convicted of all charges, Williams faces a maximum penalty of 17 years in prison – 15 years for DUI manslaughter and one year each for the two misdemeanors. DUI manslaughter carries a mandatory minimum penalty of four years in prison.
"You can be guilty of DUI and not guilty of DUI manslaughter," Landman said. "For it to be DUI manslaughter, you have to have caused the accident. There must be a causation factor."