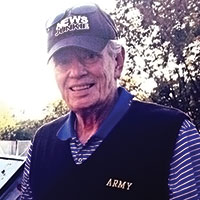 Reward money still unclaimed in hit-and-run
STORY BY RAY MCNULTY
Photo: Hit-and-run victim Peter Meyer.

An arrest was made. A woman has been charged and jailed. A plea bargain appears likely, given that police say she has admitted to driving the vehicle that struck and killed Peter Meyer last January in Savannah, Ga.
So what happened to the reward money – $10,000 from the victim's family and $117,000 from his Orchid Island neighbors, former Merrill Lynch co-workers and longtime friends – offered for information leading to a conviction in the tragic hit-and-run case that went unsolved for 10 months?
The money is still there, waiting to be claimed.
The Savannah-Chatham Metropolitan Police Department's Crimestoppers program has the original $10,000. The rest is sitting in an escrow account opened by Meyer's close friend, Orchid Island neighbor and former Merrill Lynch colleague Pat Walsh, who organized the fundraising campaign for the reward money.
"The police received an anonymous tip," Walsh said, "but no one has come forward."
Darcia Wilson, 50, of Jacksonville, was arrested in November, after police received a tip from an anonymous caller to the Crimestoppers hotline. According to Walsh, the caller simply gave police Wilson's name and address and said, "She's the one who killed Peter Meyer," then hung up.
Apparently, the tip did not come from a Jacksonville body shop, as was previously reported. Police now believe the call came from "someone who knew her," said Meyer's daughter, Deb Cohen, who joined her sister, Sue Ross, in the courtroom for a probable-cause hearing last month.
Police investigators followed up the call by driving to Jacksonville on Nov. 5 to interview Wilson at her home. Four days later, they questioned Wilson again, this time in Savannah, where they say she "confessed to the fatal accident."
Wilson was arrested and charged with one felony count of "leaving the scene of an accident involving injury or death," and booked into the Chatham County Jail. Her 2002 Chevy Tahoe was seized and evidence was sent to the Georgia Bureau of Investigation for analysis.
Cohen said prosecutors will seek an indictment for vehicular homicide when a grand jury convenes next month.
The identity of the Crimestoppers caller remained a mystery last weekend.
"The $10,000 put up by the family isn't refundable and it can be claimed anonymously," Cohen said. "As far as I know, no one has claimed it, and I don't care if someone claims it or not. If nobody comes forward, the money stays with Crimestoppers for them to use for other cases."
The fate of the other $117,000 remains uncertain.
"The money we raised is not part of Crimestoppers," Walsh said. "So if no one comes forward, we'll return the money to the people who contributed to the fund. But the reward is based on a conviction, and I'd be very surprised if someone doesn't come forward after there's a conviction. That's a lot of money."
Walsh said 13 of the 44 contributors were Meyer's Orchid Island neighbors and friends in the Vero Beach area. The other 31 were former Merrill Lynch colleagues and longtime friends.
As weeks turned to months without an arrest, Walsh's doubts grew.
"I really didn't think they'd catch anyone," said Walsh, who first met Meyer when they were in the Merrill Lynch training program in 1976. "Too much time had passed."
In fact, if no arrest had been made, Walsh was planning to return the money to the contributors at the end of June.
"The money was raised to catch the person who hit him, so I'd much rather pay it out than return it," Walsh said. "You have to believe the reward provided the incentive for someone to call the police.
"We're not going to just turn it over because someone comes forward," he added. "We'd have to verify it, of course. We'll act in good faith, but we're not going to give it away if we have doubts."
Walsh, who described Meyer as "my best friend in Vero Beach," said he would consult with Crimestoppers before paying – if the caller comes forward.
"From what I've heard, it's very likely the person who called in the tip knows the woman and might even be a family member," Walsh said. "If that's the case, they might not want their identity known until there's a conviction."
Cohen said she has no idea what prompted the tipster to call the police, adding that there was no guarantee of anonymity tied to the larger reward.
Cohen said the lead investigator working the case gave details of the incident during the probable-cause hearing, and she remains fully convinced Wilson knew she had hit someone.
"He said the woman told them she thought she hit something with her vehicle but wasn't sure, so she drove around the block to check and didn't see anything," Cohen said. "He said the evidence showed she didn't go around the block, because there was debris down the street.
"Also, my dad was knocked into the bushes, but only partially, and it was a well-lit area," she added. "So if she had gone around the corner and come back, she would've seen him."
Cohen said Wilson's family members, who were seated behind Meyer's daughters in the courtroom, "gasped" as the investigator described the incident and its aftermath.
"I doubt it matched the story she told her family," Cohen said. "She's been lying all along . . . It's pretty obvious she thought she had gotten away with it and had gone on with her life."
Until someone called Crimestoppers.