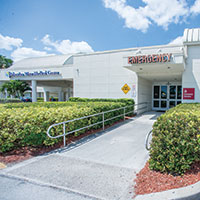 Sebastian hospital seeking to undertake major expansion
STORY BY TOM LLOYD

The Sebastian River Medical Center is asking state regulators to approve a major expansion just 14 miles up the road from the Indian River Medical Center.
Community Health Systems, a Tennessee-based conglomerate that owns SRMC and more than 200 other hospitals in 29 different states, is hoping to add 94,000 square feet – or just over 2.1 acres – of new space to the Sebastian hospital while renovating another 20,000 square feet.
A three-story tower with some 48 additional private patient rooms along with 10 new operating rooms are the key features of the planned expansion project.  The expansion and renovations would raise the facility's capacity from around 150 to over 200 beds.
CHS has yet to release any details on the proposed multi-million dollar expansion or the total projected cost, the name of the architectural firm it is using, the builder or builders it has selected, or artist's renderings of the proposed additions.
It does say construction is slated to begin in mid-2016 with a projected completion date targeted for mid-2018.
Whether that's a viable schedule remains to be seen.
The proposed 94,000-square-foot addition is almost three times the size of the Scully-Welsh Cancer Center that just opened next to the Indian River Medical Center here in Vero Beach, and that much smaller facility took nearly two years to complete.
Nonetheless, the designs and plans CHS has commissioned will shortly be submitted for review to Florida's Agency for Health Care Administration.
If approved by AHCA, the facility located at 13695 U.S. 1 in Sebastian will then have to garner local building permits along with other state and municipal approvals before construction can begin.
Dr. Kirk Maes, chief physician of SRMC's medical staff, is optimistic. "These improvements will support our physicians and nurses as they provide patients with a (wider) range of quality care and services," says Maes.
"Our surgeons and primary care physicians have been highly engaged in the planning process for this significant expansion," he added.
Angela Dickens, marketing director for SRMC, put it even more simply: "This is a really big deal and we are so excited here."
However, getting all the approvals, including from AHCA, is not a foregone outcome. Nearby hospitals often object to rival expansion plans and AHCA sometimes refuses to grant permission because of a lack of perceived need.
According to a May 2015 American Hospital Directory report, the Sebastian facility currently logs only 24,636 patient days out of a possible 56,210 with its present bed count. Medicare's cost report on SRMC pegs its gross patient revenue at less than $830,000.
Indian River Medical Center declined to comment on whether IRMC will challenge Community Health System's expansion plans.
SRMC first opened its doors in 1974 as a 103-bed facility. In 1978 Humana Corp. purchased the Treasure Coast hospital and 15 years later, Health Management Associates acquired the institution.
In 2014, Community Health Systems bought HMA, taking over SRMC.