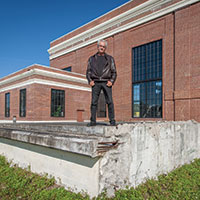 Surprise! Only three contenders bid for the old diesel power plant
STORY BY MICHELLE GENZ
Photo: Ross Power: Bidding for the historic diesel power plant.

When the bids for the remains of the city-owned century-old diesel plant were released last week, the list was more striking for its omissions than for the contenders.
Former NBA team owner and now Lemon Tree diner owner George Shinn's idea for a nonprofit car museum appeared to have run out of gas, or at least stalled out. Shinn didn't return our calls and emails.
Then there was the Cultural Council's proposal to turn the plant into an arts center, with various display areas downstairs along with a coffee shop, and upstairs, cubicles rented to artists who would be watched by visitors as they worked.
With the backing of the late Dick Stark, the arts center seemed to have a fighting chance. Then it hit a snag: Stark, renowned for his local philanthropy, turned out not to be bankrolling the arts center, as some had whispered.  Instead he balked when the city wouldn't agree to lease the building for a dollar a year, like the land lease enjoyed by the Vero Beach Museum of Art and Riverside Theatre.
Another lease was the last thing the city wanted.  The last lease of the diesel plant – to builders Phil Barth and David Croom, who could never make a go out of their decade-old restaurant-retail-office space plan for the plant – is exactly what the city has been battling over in court.
After being tied up for two years in litigation, the city finally got the right to sell the plant in October in an agreement between the sparring parties. It was finally put out to bid last month.
Turns out, another impassioned speaker at that Cultural Council meeting, Ross Power, is trying to pull off what the Cultural Council couldn't. A former Miami man-about-town and sculptor now living on Vero's barrier island, Power is best known for buying early in Miami's Design District and helping to spawn a drastic transformation in the run-down neighborhood off Biscayne Boulevard.
Power's proposal is the same that he pitched for the Cultural Council's arts center: fly in movie crews and photographers to use the space as a set. And fly in art collectors and corporate buyers of art. There, in downtown Vero, they would view monumental sculptures outside the plant (including his own, currently in a sculpture garden at Florida International University). Indoors, there would hang monumental canvases on the plant's huge brick walls.
"There are a lot of people who agree with me," says Power, "including 2,000 people who signed the petition to create a cultural arts center there."
The petition signers include City Council member Dick Winger, according to Power. He says it was Winger who first suggested he buy the plant.
Powers has recruited Vero restaurateur Kitty Wagner to help with a food concept for the space. Power envisions something similar to Power Studios, the cornerstone of the Miami Design District when it was first taking shape. Hip, buzzed about and, most importantly, utilized, Power Studios was where Emilio Estefan shot his first music video, and where Bruce Weber shot Gianni Versace's last catalogue.
Power bought the two-story warehouse in the 1980s for $90,000; it sold in 2013 for $8 million, to be converted into luxury retail.
So now he wants to create Power Studios Vero Beach. Dining, entertainment, an international film festival, satellite connections to whatever's going on in Riverside Park. And he wants to turn the bowels of the old diesel generator into a solar powered kinetic sculpture, parked right off Route 60, a twirling tour-de-force on the main artery east through Vero.
Of course, State Road 60 is hardly Biscayne Boulevard. And the millions of people cross-pollinating in Miami could get buzz going over a new hot spot a lot faster than this county's 142,000.
If that sounds pessimistic, it pales compared to what Power's friend Michael Rechter had to say.
Rechter is bidding against Power for the plant. He wants to make craft beer on a commercial scale. He is a Fort Lauderdale chiropractor-turned-pain clinic operator who started investing in Vero real estate in the early 2000s. Along with the plaza that the Majestic Theatre anchors, and the shopping center with K-Mart next door, Rechter has bought up various parcels in the area of downtown currently under consideration for designation as Vero's Arts Village.
Power too has investments in the area around the plant. In addition to a rental house, he has a studio nearby.
Both are advocates of the Arts Village concept, for obvious reasons, and both are convinced the diesel plant is key to the concept's success.
Rechter's "blabbing all over town" about putting a brewery at the plant is what motivated Power to bid, he says.
"We are friends, but we're adversaries in commerce," says Power, after the two discussed their competing bids.
"I said, 'You're about 60 percent off on what the property needs.' At that point, he didn't engage in conversation. He had no interest in opening up a dialogue. Honestly, I might have even said, 'Hey, let's do things together.'"
Rechter is so convinced that Power's idea is a weak one that if his bid doesn't win, he may not revert to his initial plan to put the brewery in the former Compass Rehab space two blocks away from the plant.
"If the diesel goes to a second-rate developer and 'C' concept, downtown is going to be negatively affected and I may do the brewery in Fort Lauderdale," he texted Friday on his way to Vail, Colorado. "A downtown needs foot traffic and Ross' art concept will bring zero. Except the one percent from the island – occasionally.
"You need a driver," Rechter continued. "A place that all people and families can and will go. Often."
Power, of course, disagrees. "Can you imagine that becoming a brewery? It would be such a waste. It's the flagship for the entire village."
Rechter makes the same point as the third and final bidder, Guy D'Amico, whose idea for the plant is similar to Rechter's – if higher proof: He and his wife Lisa are proposing a craft distillery. When 32963 last talked to D'Amico in 2014, soon after he wrote the city with an initial cash offer of $595,000, he was cautious about entering the fray with media reporting the specifics of his idea.
Later, he said he was stung by Dick Stark's remark, quoted in 32963, that the distillery would be "disastrous" for downtown, though the 93-year-old Stark quickly followed up with a grin and the quip: "I'd like to have a tipple."
D'Amico had done his research. Though his source of funding isn't clear, he had already toured many of the state's 15 craft distilleries.
There is no doubt Florida's distilleries are successful tourist attractions. Last year, 100,000 people visited St. Augustine Distillery Company, built in an old ice plant, not unlike Vero's diesel plant.
"Free tour with gin, rum and vodka samples? Yes, please!" read one online review. There was pink lemonade for the kids.
At the same time, a distillery, unlike a brewery, isn't likely to produce a lot of buzzed tourists, despite its product's fiercer punch. The free samples are limited – only two at St. Augustine, and by law, drinks can't be sold on premises the way pints of beer can be sold at a brewery's tap room.
Furthermore, thanks to Florida's arcane laws dating back to prohibition and lawmakers under the influence of liquor distributors, distillers are limited to selling only four bottles a year per person, or if the distillery makes more than one brand, two bottles per brand.
With no mass transit and few cabs, Vero's downtown could be adversely affected by people having too many pints of beer at a brewery – especially likely when the beer's delicious. That would not be the case with a craft distillery, Dick Stark would have been happy to hear.
As for Power Studio Vero Beach, Power's success is well documented in the Design District.
But it's hard to imagine his idea consistently bringing in the throngs of film makers and photography shoots that would be needed to fill downtown's empty sidewalks.
Vero's City Council will ultimately decide the destiny of the decrepit diesel plant, built in the 1920s and abandoned for too long. The three bidders will be the subject of a Feb. 3 public meeting starting at 10:30 a.m. There, an evaluation committee consisting of Jim O'Connor, city manager; Tim McGarry, city planner; Monte Falls, public works director; and Ted Fletcher, electric operations director, will hone the list to one recommendation. After an interview process, the project will be put to a vote by the council.