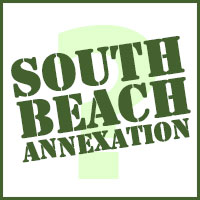 Vero intrigued by annexation of South Beach
STORY BY LISA ZAHNER

Some South Beach residents fed up with problems caused by vacation rentals in their neighborhoods want the City of Vero Beach – which prohibits short-term rentals – to provide preliminary data on the impact of annexation on their property taxes and other costs.
At first glance, it seems some costs would go up while others would be reduced.
If annexed, South Beach property owners would pay Vero's property tax rate of $2.38 per $1,000 of taxable value instead of Indian River County's municipal tax of $1.07 per $1,000 and they would be subject to a 10 percent "utility tax" city residents now pay, but they would cease paying a 6 percent franchise fee to the County on water-sewer and electric bills.
South Beach residents would also give up any hope of getting off the Vero Beach electric system, either by a partial sale, by a decision of the Florida Supreme Court or by some legislative tactic. Issues with garbage collection would also need to be worked out, as Vero operates its own solid waste collection operation. South Beach is already on Vero's water and sewer system.
"We'd love it," Council member Dick Winger said of the proposed annexation, which would increase the city's population by 25 percent, from 15,000 to approximately 18,500. "The only [financial change] that amounts to anything is the difference between $1.07 and $2.38. That's material, that's the added tax you would pay. But you'd lose the 6 percent franchise fee. The water and sewer are going to be almost a wash and the garbage is going to be almost a wash."
Mayor Jay Kramer said "the tax would go down as well," anticipating that the city's expenses would be spread among more taxpayers, but Winger and Council member Pilar Turner cautioned that would depend upon on what the council decided to do with the extra money.
Vero has lots of projects on the shelf that it has no money to complete, including road repairs and  stormwater projects.
The city also has roughly $40 million in unfunded pension liabilities for its non-police employees.
City Manager Jim O'Connor said Vero studied South Beach annexation in 1997 and the results  overwhelmingly showed "annexation would be a benefit to the City of Vero Beach." The move would shift potentially millions of dollars from County coffers to Vero's general fund, but the impetus for the annexation would need to emerge from and be approved by South Beach residents.
O'Connor said he and the staff would put some figures together, but the concept would first have to pass muster with the South Beach Property Owners Association – a group that has been vehemently anti-Vero electric. Staff will take about five sample properties of different values and calculate the annual increase in costs so residents can compare that to their own situation.
The biggest benefit South Beach residents would get from annexation is better police protection and vacation-rental code enforcement from the Vero Beach Police Department, which would replace the Indian River Sheriff's Office as the primary law enforcement agency, extending Vero's jurisdiction on the island to the Indian River-St. Lucie County line.
Code enforcement was brought under the umbrella of Police Chief David Currey in 2015, so uniformed officers work in tandem with code enforcement officers to curb disruptions from parties or noise caused by vacation renters.
Vero allows vacation rentals of 30 days or longer, but not for shorter periods.
Dr. Miles Conway, the outspoken owner of a multi-million-dollar property at the south end of the island who says he represents his South Beach neighbors, stated he doesn't care how much extra he has to pay in taxes to get Vero Beach Police Department protection.
He is weary of a neighboring vacation rental being used as a beach wedding and party venue, and he thinks that, given the choice, South Beach residents will line up to become part of the City of Vero Beach.
"To preserve our quality of life, we feel we have a better home with you than where we are at the moment," Conway told the Vero Beach City Council last week during a 30-minute presentation.
"Certainly we would welcome you into the City of Vero Beach. I do believe the city has many strengths and many things to offer," said Turner, who has in her three campaigns for office received financial support from South Beach residents. "However, I am concerned with annexation . . . we can't actively go out and seek annexation."
City Attorney Wayne Coment said what Conway is talking about is voluntary annexation, and that a referendum of South Beach residents would likely be required.
Conway believes if he and his neighbors were covered under Vero's code, the disturbances he suffers from short-term renters, partygoers and wedding guests could be halted. If the big crowds and celebrations go away, he claims his property values – which he said have suffered from the juxtaposition to a busy vacation-rental property – would rebound.
The Florida Legislature, after heavy lobbying from vacation rental managers and Disney vacation rental interests, passed a law in 2011 giving the state the sole power to regulate short-term rentals. Cities and counties can keep any rules they had on the books, but they cannot enact new prohibitions or tighten existing code to restrict property owners from renting out their homes.
Indian River County at the time chose to back off and not run afoul of state law. Vero's planning staff, working with attorneys from South Florida, devised revisions to Vero's code that are yet to be tested in court to see if they violate the 2011 law or a follow-on measure that passed subsequently.
Should the property owners prevail and Vero be told by the courts that its tweaks, clarifications and changes to definitions in the code overstepped the city's powers, Vero would be left with the code it had on the books prior to June 2011, and police would have little power to cite vacation rental properties.
Indian River County has approved a limited parking ordinance change, which is permitted by state law, and appointed an ad-hoc Short-term Rental Committee. That committee has been criticized for being stacked with members who support property owners' rights to rent out their homes.
The other hurdle to Conway's quest for annexation is that the vacation rental issue mainly affects South Beach residents who live outside gated communities and who are not governed by the by-laws of a homeowner association or condo association.
Gated communities can and do police short-term rentals with their own rules and deed restrictions, which often are more stringent than Vero's, so homeowners in those subdivisions may not rally to Conway's cause.