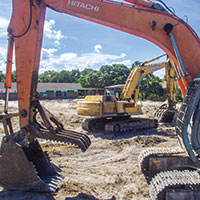 Beachland report card: Lower scores, fewer students
STORY BY KATHLEEN SLOAN
Photo: An $8 million renovation and rebuilding of the island's Beachland Elementary School continues.

The student population and key test scores have declined at Beachland Elementary, the island's only public school, at the same time as the percentage of students from low income families has increased.
The statistics seem to be related, according to parents whose children attend the school.
"Beachland was overlooked by the district for years," says Tiffany Justice, a candidate for school board who has three children at the school. "Parents got frustrated with the system."
A parent who wishes to remain anonymous said many "very-involved parents" took their children out of Beachland and enrolled them in North County Charter School, "where they feel welcomed."
Buildings at Beachland, the oldest dating to 1957, fell into disrepair in recent years and had problems with leaks, mold and rats, according to parent complaints.
The school district has now undertaken an $8 million renovation and rebuilding project at the school, but the action may be too little too late, at least for some students and parents.
With falling test scores and rising poverty, the overall grade assigned to the school by the Florida Department of Education dropped from an A to B this year.
The number of students declined from 615 in the 2012-13 school year to 494 in the 2015-16 school year. During the same time span, the percentage of children qualifying for a free or reduced-cost school lunch increased from 38 percent in 52 percent.
Conditions at the school prompted protests from parents that eventually caused the district to start renovating the school a year ahead of what had been scheduled.
Because of inadequate facilities, lunch was served over three hours in three shifts, making some students wait too long to eat, according to Justice, who says some kids "lost concentration before lunch."
Six classrooms were housed in trailers, which exposed children to rain and weather when they went from their class to lunch or other activities.
Shortly after school closed in June, the cafeteria/auditorium building and four classroom buildings were torn down. A new cafetorium will large enough for the whole school to assemble, "which is important for school spirit," Justice said.
In the meantime, however, during the year-long rebuilding process, kids will be attending school in the middle of a construction site – not an appealing prospect for some parents.  More students will be moved into trailers in the coming year and, at lunchtime, food will have to be brought in from Dodgertown Elementary.
North County Charter School's student population increased from 272 in 2014-15 to 319 in the 2015-16 school year.
It got an overall A grade from the state in 2016, compared to the B grade given Beachland.