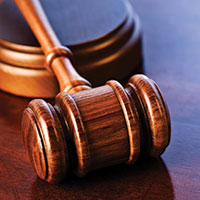 Former Vero man files lawsuit over Baker Act arrest
STORY BY LISA ZAHNER

Former longtime Central Beach resident Larry Wilke has challenged in federal court the legality of the Vero Beach Police Department's handling of a 2014 incident in which Wilke was taken into psychiatric custody under Florida's Baker Act.
Wilke, 72, who filed suit last week in Florida's Northern District federal court as his case also includes a subsequent Baker Act hospitalization in Tallahassee, is acting as his own legal counsel and says he will persevere until the case is heard. "I will not go away," he said Friday on the telephone from Troy, Alabama, where he now lives.
The former Dahlia Lane resident says he has spent his career building and working on water and wastewater utility plants and that at the time of the 2014 incident, he was employed by Poole and Kent Construction, a South Florida environmental design-build firm with offices in Vero. Wilke said city officials are more than familiar with him and with his dispute. "They all know me well," he said.
Vero City Manager Jim O'Connor confirmed that he and his staff have had numerous interactions with Wilke at City Hall, but said he was unaware that he'd finally filed a lawsuit. "We have not been served with anything, I have not seen it," O'Connor said. "This is a liability issue and our insurance company handles these matters. We would refer this to our insurance company and to their attorneys."
In his nine-page complaint, filed pro se or on his own behalf in the federal court, Wilke details a narrative that he says began on Jan. 27, 2014, when he and another man named John Daly lodged a report with the Federal Bureau of Investigation about suspected criminal activity at the now-demolished Surf Club hotel on A1A a half mile north of Jaycee Park.
Citing what Wilke calls "irregularities" with the process of filing the report with FBI agents in Ft. Pierce, Wilke alone filed a duplicate report three days later with FBI agents in the Melbourne field office.
"The contents of these reports impacted not only some extremely wealthy and influential people in the Vero Beach community, but encompassed questionable involvement by the City of Vero Beach's Administration as well as the city's Police Department. The report centered on possible money laundering, drug running, illegal immigration and prostitution."
As Wilke tells it, his statements to federal agents were not well received. "After listening to, and acknowledging portions of the report to be true, the two agents suddenly and unexpectedly stated 'they had heard enough,' stood up and walked out."
Daly, Wilke says, had worked as a maintenance man at the hotel and had observed "a number of situations he deemed to be of interest to federal law enforcement."
"The hotel had a checkered past and was known to be problematic by both local and federal law enforcement," Wilke wrote in page 3 of his complaint filed on June 24.
The night after filing the second report with the FBI, Wilke said, "Around midnight, the Plaintiff (Age 70) having never had any mental problems in his entire life, awakened suddenly from a deep sleep with a panic attack. Perceived as a heart attack, 911 was called. The Vero Beach Police Department responded."
Wilke said he pleaded for onlookers to call the state police as he was afraid of reprisals for having implicated local cops in his statements to the FBI. At that point, instead of receiving medical evaluation, Wilke said he was assaulted by officers "throwing him to the ground and double handcuffing him severely abrading the Plaintiff's arms."
Wilke was then taken to Indian River Medical Center, where he says his injuries were photographed and X-rayed and he was initially released to go home, but instead, police invoked the Baker Act and he was admitted to the hospital's Behavioral Health Center.
Under certain circumstances, citizens who display signs of mental illness or the desire to harm themselves or others may be involuntarily held for 72 hours in a behavioral health facility, according to state law.
After being released from the hospital, Wilke said his life got even stranger, as he traveled to Tallahassee with his wife and his son, Dr. Ryan Wilke, on Feb. 4, 2014, to obtain what he hoped would be an objective second opinion about what caused the midnight panic attack.
After waiting 15 hours at Tallahassee Memorial Hospital, Wilke said a doctor there invoked the Baker Act again, and he ended up being hospitalized for 27 days and involuntarily medicated, while he protested and made pleas to everyone he could think of, up to Florida Attorney General Pam Bondi, to be released from the facility.
Wilke is also suing the Tallahassee hospital and its board and parent company, claiming he was held against his will, in violation of his civil rights.
"The Plaintiff is the first to admit that the recounting of this event sounds bizarre," Wilke wrote on page 5 of his complaint.
"This curious fact only serves to make its investigation employing the Freedom of Information Act, its revelation to the courts and its prosecution more challenging. While these two events concerning first, the City of Vero Beach, and secondly Tallahassee Memorial Hospital Behavioral Health Center, on first glance appear to be only tenuously related, they are in fact tenaciously bound by a common denominator: the deliberate misapplication of the Baker Act by individuals legally entrusted to its use (police, doctors, et al)," he said.
"In both instances the Baker Act, an otherwise intended noble piece of well-meaning legislation designed to protect the public interest as well as patients, was effectively used by dishonest professionals employing well thought-out schemes of deception," Wilke said in his complaint.
Wilke says he has attempted several times to negotiate a fair settlement with the parties, but "negotiations collapsed when they played games," he said. As legal remedy, Wilke is seeking an injunction against "the City of Vero Beach, its employees and associated hooligans" from harassing him by electronic or other means. He is also seeking a change of venue to the Orlando federal courts.
He has petitioned for $250,000 in damages, plus he wants the case to be considered as a class action suit to represent all the Floridians who have been, as he puts it, "falsely and maliciously Baker Acted." For the class action part of the matter, he stated he believes $70 million would be reasonable compensation to the victims.